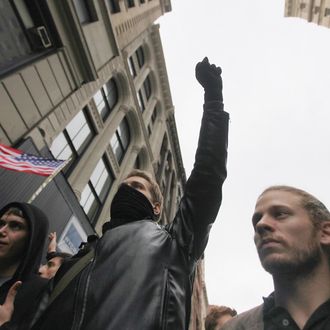 Photo: Mario Tama/2011 Getty Images
When considering the impact made by the Occupy Wall Street demonstrations so far and the movement's potential influence moving forward (as this magazine's current cover story does) many are pointing to the protesters' already-apparent ability to "change the conversation." For instance, "income equality" is now a thing we talk about, and as the New York Times notes today, the "99 percent" and other buzzwords have entered the lexicon. Even Republicans have noticed: "I'm so scared of this anti-Wall Street effort. I'm frightened to death," said notable conservative messaging strategist Frank Luntz this week at a meeting of the Republican Governors Association. "They're having an impact on what the American people think of capitalism." But don't worry, he has a plan.
According to Yahoo's Chris Moody, who was present, Luntz offered up a few helpful tips to outsmart the nation's budding socialists, including referring to capitalism only as economic freedom or the free market, and calling taxing simply taking the money from hardworking Americans. Free hardworking Americans. Careers is better than jobs, he said, while bonuses should be called pay for performance.
Does Luntz think people are stupid or something? Don't answer that.