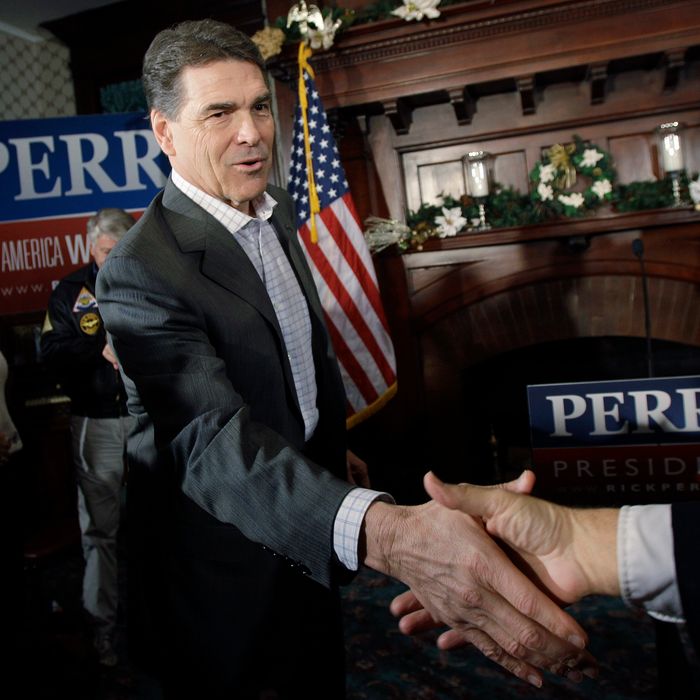 Rick Perry kicked off his marathon fourteen-day, 42-city bus tour of Iowa this afternoon with what was billed by his campaign as a "town hall meeting" at the far western edge of the state in Council Bluffs. Given a batch of new polling that suggests that both Gingrich and Romney are losing a bit of steam here — and one survey in particular, albeit from a less than totally reliable outfit, that shows the Texas governor moving past Romney and into third place — the timing seemed fortuitous for the start of Perry's Hail Mary.With a burst of energy and an impressive display of his vaunted retail politicking skills, perhaps Governor Good Hair, as he's known at home, might vault himself back into the hunt.
Here is what transpired at Bayliss Park Hall, where maybe 75 voters were waiting for him: Perry entered the room wearing a gray jacket over a white dress shirt with faint blue windowpane plaid. He made a joke about how no one comes to Iowa in December for the weather (which, in truth, is unseasonably warm at the moment, around 50 degrees, if also drearily wet). He said that what ailed America was Washington politicians and Wall Street financiers "in cahoots"; that "Main Street businesses, mom-and-pop businesses" were getting hosed; that Obama was "an abject failure" who was waging "war" not just on the economy but on "our values"; that Perry's flat-tax plan, turning Congress into a part-time legislature, and repealing Obamacare would fix everything right up; and that, having grown up on a farm and served in the Air Force, he was basically an Iowan (with a twang). Then he turned over the mike to an injured Iraq War veteran who endorsed him with evident passion and verve — two qualities that Perry himself displayed in quantities very close to zero.
 
What did not transpire in Council Bluffs? What did not transpire were questions — Perry took not a single one from the audience. Now, there are many topics about which opinions differ in politics, but on the following there is unanimity and many presidential cycles of uniform precedent: The definition of a town hall meeting is an event at which the candidate subjects him- or herself to questions from the crowd. (And yes, I checked and rechecked the campaign's official schedule: "[T]own hall meeting" was printed there in plain English.)
 
Two possible explanations immediately suggest themselves for this deviation from custom: (1) that Perry's handlers do not understand the commonly accepted definition of a town hall meeting — which seems unlikely, since they are not political ignoramuses; or (2) the governor really is just phoning it in at this point, that he has basically given up and intends simply to wage a pro forma campaign here between now and January 3, take his lumps on caucus night, drop out of the race, and head back to the Lone Star State to take long jogs and shoot coyotes.
 
I am open to other possibilities, of course. Maybe Perry's bad back, which he finally acknowledged yesterday has been a problem for him, was acting up again and he needed to repair quickly to his bus for some massage therapy. Or maybe he's just taking his time to warm up, and will soon be engaging with the good people of Iowa as John McCain did last time around with those in New Hampshire — stumping as if the fate of his campaign depended on it (which it did), answering questions until there were no more, until he had exhausted every room, putting on a display of grit, stamina, and borderline desperation that brought him back from the dead.
 
But if that's the case, Perry better start now — because that kind of performance is precisely what will be required if Perry is to salvage his candidacy and secure a decent-enough finish in Iowa (third at worst, that is) to survive and fight on in South Carolina. Today, however, Perry was very far from McCainian. Instead, he acted like he barely gave a shit. And, for a guy still ostensibly claiming that he is running for president, that is — or should be — more than little embarrassing.