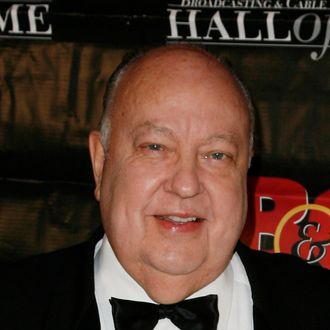 Roger Ailes.
Photo: Joe Kohen/2008 Joe Kohen
Several GOP candidates have treated this primary season as a book tour just as much as a presidential campaign. Newt Gingrich, Herman Cain, Michele Bachmann, and Sarah Palin have all hustled around the country selling books, in addition to regular appearances on Fox News to tout their tomes. And now the architect of Fox News is getting into the book business himself.
According to several sources with direct knowledge of Roger Ailes's plans, the Fox News chief is currently at work on an autobiography. Ailes's agent, D.C. super-lawyer Bob Barnett, is working out the deal with Murdoch-owned HarperCollins to publish the book. Several publishing sources told me that Ailes would get a $3–4 million advance for the book, which is being co-authored by Fox News contributor Jim Pinkerton. Ailes and Pinkerton go way back. The two worked together on George H.W. Bush's 1988 presidential campaign (it was Pinkerton who did the opposition research that uncovered that Michael Dukakis allowed the Massachusetts prison furlough program, which became infamous fodder for the Willie Horton ad). Pinkerton was also the ghost writer for Michele Bachmann's book, Core of Conviction.
"Nothing is official yet," Pinkerton told me by phone. A Fox News spokesperson added that Ailes's book is "all speculation at this point."

Ailes's decision to write an autobiography could have serious implications for both Fox News and the future of the Republican Party. For one, it would be difficult for Ailes to publish an unvarnished, tell-all autobiography while still running Fox News. How would the Fox talent or Rupert Murdoch feel if Ailes put into print what he really thinks about them? Ailes's only other published book, a self-help manual titled You Are the Message, was light on insider details, and came out in 1989, years before he launched Fox News.
The fact that Ailes is working on a book suggests that he may be thinking of stepping down following this presidential election, when his contract expires in summer 2013. So far, Ailes has made no moves to groom a successor at Fox, and inside the network, executives openly talk about a scenario where there's a major management battle for control when Ailes eventually departs. In a recent interview with the AP, Ailes said he was mulling over his options and would like to own the Cleveland Indians.
But beyond Fox News's future, the fact that the 71-year-old Ailes is now working on a book represents a new chapter for the famously pugnacious, hard-charging executive. Many of Ailes's friends who I've spoken to in the course of working on my own book about Ailes and Fox News have recently remarked that he's entered a legacy-burnishing phase of his career, as seen in Ailes's decision last year to open up for an extensive sit-down interview with Esquire's Tom Junod. And it can also be seen in Ailes's recent comments that Fox has taken a "course correction," putting distance between himself and the Republican circus his network did so much to promote. For years, Ailes told friends he had no interest in writing a memoir or an autobiography. But Ailes has made a career as a master shaper of narratives. Now, the biggest story he wants to control is his own.