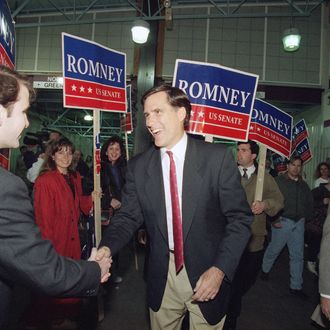 Don't vote for a career politician. Vote for a wannabe career politician.
Photo: Jim Rogash/AP
Mitt Romney is vowing a tougher new line against Newt Gingrich, who has surged to a lead in national polls and in early primary states. Watch Romney bring the pain: >
"We're going to make sure that the differences in our experience and perspective are well-aired. You can be sure I will not be quiet, I am going to make sure my message is heard loud and clear," Romney told FOX. "Gingrich is a friend, I respect him, but we have very different life experiences. If Americans want someone whose [sic] been in Washington the last 40 years, then that's him but if they want someone whose outside of Washington and a freedom-based society … that kind of experience is I think what it takes. America needs a leader, not so much an insider, but a leader to get America going again."
Of course, Gingrich has an answer to this. The only reason Romney isn't a career politician, he points out, is that he keeps losing elections. So Romney is already refining his attack:
"I ran for office but I didn't win. That doesn't mean I spent my time in Washington, because I didn't win. Had I won, why we wouldn't be having this argument, I would be president of the United States," Romney said. "Instead, when I lost elections I got to go back and be a businessman again and allowed me to be involved in the economy and to understand that the grass roots level what American people are suffering and what I can do to get jobs again."
Romney is kind of missing the thread here. The point of the outsider anti-politician pose is that Americans dislike political ambition. They think politicians are grubby and self-interested, and have a higher view of people in other professions. That's the power of the attack. When you've conceded that you wanted to be a career politician but you failed, and so you luckily managed to pick up different experiences, you've lost all the punch. Romney is treating it like a line on his resume – I didn't get into business school, so I joined Teach for America instead, where I learned even more valuable skills! I don't think that's the killer weakness Romney is looking for.