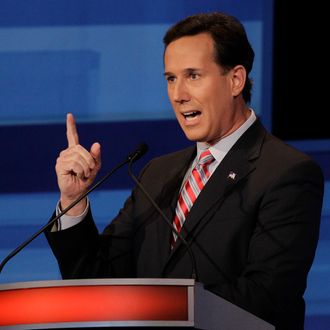 Rick Santorum, ready for his moment in the sun
Photo: ERIC GAY/2011 AFP
A new CNN poll has Mitt Romney leading Iowa, but the most buzz-worthy tidbit may be that former senator and Google victim Rick Santorum is surge … uh, spurt … I mean, is now in third place, with 16 percent of the vote. There are reasons to doubt that this is a perfectly accurate snapshot of the race. PPP's Iowa poll has Santorum at just 10 percent. But the CNN poll has the potential to become a self-fulfilling prophecy.
PPP's poll interestingly found that Santorum is actually the most popular candidate in the race. Mitt Romney has crushed Newt Gingrich under a blizzard of negative ads, reducing Newt's favorability among likely caucusgoers rating to a horrific minus 17 (37 percent favorable, 54 percent unfavorable). In the process, some of the blood splattered on Romney, lowering his favorable to a poor minus 3 (44/47). Santorum, having escaped the crossfire, is sitting pretty at 56/29.
He's still doing pretty poorly in the polls. But the gap between his favorable ratings and his likely support suggests a kind of coordination problem. Lots of people like him, but they don't want to vote for him because he's losing – which is to say, they might vote for him if they think other people will vote for him. The CNN poll has the potential to solve that problem. It can fuel the perception that he is on the rise. By creating a narrative of Santorum-entum, he can lure some of those Santorum-liking Iowans disgusted with the others to support him. And then eventually he'll be crushed by Mitt Romney's money and organization, but at least we'll get some fun competition in the meantime.