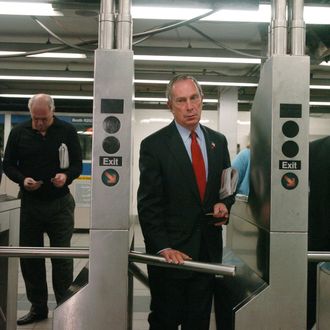 Bloomberg would never buy a swipe.
Photo: Bryan Smith-Pool/Getty Images
It seems like kind of a hassle, but apparently people buy unlimited MetroCards then sell single rides for less than the standard fare, eventually making up the cost of the card and turning a profit. New York's highest court ruled yesterday that the sellers can no longer be charged by the city with petty larceny because, "although decidedly criminal in nature," the scheme doesn't technically take anything from the NYC Transit, which never owned the fare to begin with. Unlawful sale of transportation services is still a crime, but at least one man, whose case made it all the way to the State Court of Appeals, has had his conviction overturned, and others charged similarly are now free to appeal. That seems like a hassle, too; perhaps time would be better spent coming up with a hustle that doesn't require an eighteen-minute wait between transactions.