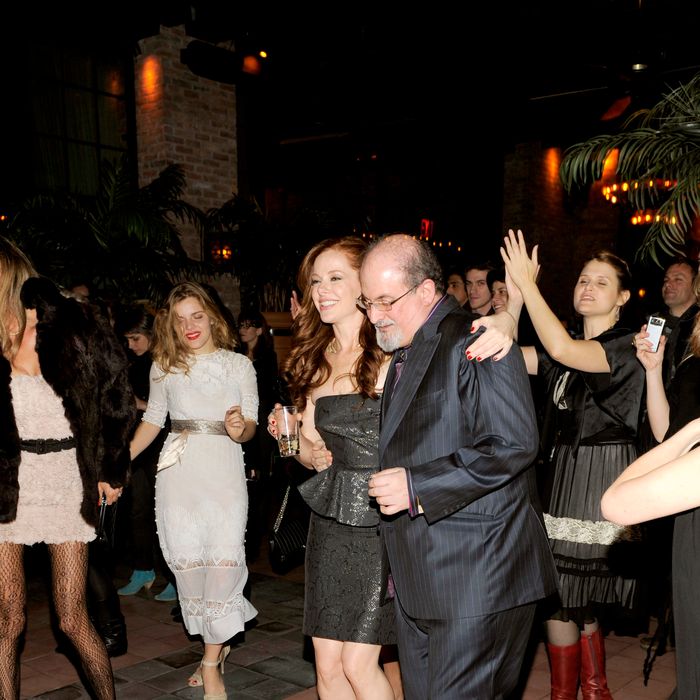 Rushdie and Barish.
Photo: Clint Spaulding/PatrickMcMullan.com
Salman Rushdie, who gets the descriptor "womanizing" in "Page Six" today, is a goddamn tabloid fodder machine lately. Last week, the author was all over the New York Post for dumping socialite Devorah Rose via Facebook — and messaging her the word "hottt" — as he continues his recent attempts to eclipse his writing with celebrity exploits. Now he's reportedly gone and proposed to his ex-girlfriend, who is going through a breakup, but not with her husband, from whom she's still not divorced. Salman, stay out of it!
The Daily reported yesterday that Rushdie's old flame Michelle Barish has split from billionaire producer Steve Tisch, and that upon hearing the news, Rushdie almost immediately proposed to Barish. (She would be Rushdie's fifth wife.) Barish reportedly did not give him an answer, but all hope is not lost: "It's believed when Barish and her daughter Bee return to New York from Orlando, Fla., Rushdie will present her with a diamond ring, and ask again."
But today, "Page Six" makes the love triangle a square by noting that Barish's divorce from her husband Chris Barish is not official. "Perhaps Michelle's current suitor may not be aware that the divorce is not yet final," said Chris's lawyer. "The parties are working towards a settlement."
Rushdie is undeterred, although it's hard to tell at this point if he's more infatuated with the woman or the attention. Maybe it is true love. "Salman is besotted," said a source. "He asked her within 48 hours of her breakup to marry him. He even has a ring." If she doesn't accept it, maybe he can present it to a reality television producer.