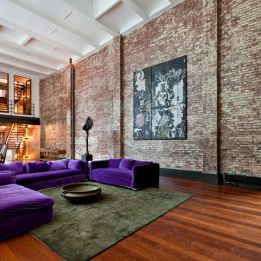 Isn't it just frustrating when you have six figures budgeted each month for a rental and there just aren't enough options? You're in luck. A five-story townhouse listed with CitiHabitats just debuted on the market for $100,000 a month, bringing the grand total of properties in the city in your price range to three. 
This new arrival gets you three bedrooms, three baths, a 925-square-foot terrace, a motorized movie screen, and a master suite with its own sitting room. It's a live–work space, so you can toil in the grand library with nineteen-foot ceilings and end the day with a relaxing swim in your indoor pool. The house is available daily ($20,000) or weekly ($50,000), too, in case you're committed to spending February in Gstaad.
But if you'd rather be uptown, two other listings are available for a little bit more at the genteel Waldorf Towers on East 50th Street, per Streeteasy.com. One, asking $150,000 a month, holds the distinction of having once housed none other than Cole Porter.