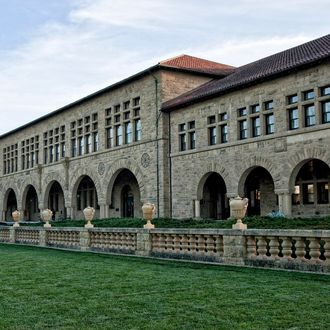 Not in New York. Ever!
Photo: Chip Chipman/Bloomberg via Getty Images
Stanford, which looked like the top candidate to build a high-tech campus in New York City on Roosevelt Island, has just withdrawn its bid to do so, via a press release this afternoon. (Ex-Intel) Nitasha Tiku reports for BetaBeat:
Seemed like somebody at Stanford really wanted this. But the proposal was not popular with everyone in Palo Alto, most notably the student body. There were also disagreements over the proposed location — Roosevelt Island — and other facets of Stanford's application. It's also possible that Stanford was worried that the city would pick another school, which would be a black eye for the university. Another factor was the amount of money each school was requesting. "Not sure. I wasn't in the negotiations. I think there were a variety of areas where they just didn't see eye to eye," said one source familiar with the process, adding, "It's what it looks like — they just couldn't come to an agreement on terms and there wasn't much point in continuing to negotiate."
That leaves Cornell and NYU, two pretty good safety schools. Cornell is said to have a slight edge.
Update: Stanford withdrew, reportedly, because of fundraising concerns. That same afternoon, Cornell  announced that it got a big old pile of cash, $350 million, to put towards its bid for the school.