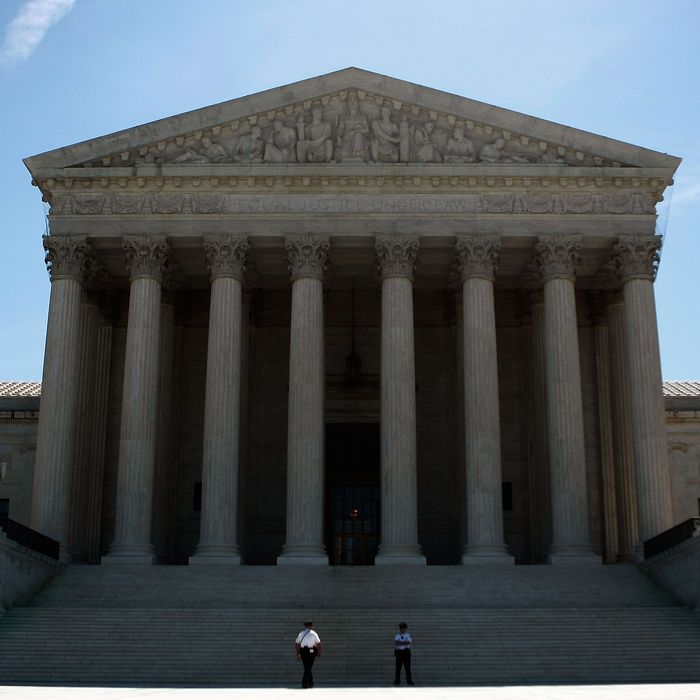 Photo: Mark Wilson/2008 Getty Images
In case you hadn't noticed, the Supreme Court is currently very politically relevant. Three upcoming cases the court has agreed to hear might determine a whole lot, including control of the House of Representatives, and could even help decide the presidential election.
On Monday, the court announced it would decide whether Arizona was justified in imposing hyper-tough anti-immigration laws — wherein police could stop anyone they have reason to suspect is illegal — over the White House's objections. And then there's the challenge to Obama's health care overhaul. The immigration and health care decisions are likely to land in June, and would represent a major victory for somebody — either for Obama, or for his Republican opponent, who'll be predictably tough on immigration and socialized health care.
And on Friday, the court agreed to hear a case on Texas's redistricting. Federal judges had drawn new electoral maps, aiming to recognize the state's burgeoning minority population. (The Hispanic population grew by 2.8 million over the past decade, compared to 465,000 whites.) But Texas objected — the new maps would favor the Democrats (those pesky minorities), and Attorney General Greg Abbott (R) requested the Supreme Court's intervention. Depending on how/if the electorate map gets redrawn, up to four seats in the House of Representatives could change control. This case will go before the justices on January 9.