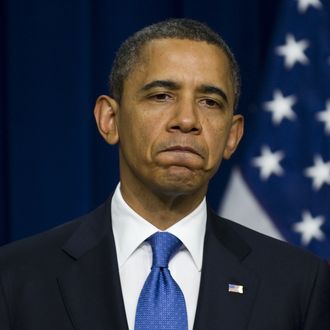 Sad Obama.
Photo: Jim Watson/AFP/Getty Images
Thanks to the (possibly not long for this world) electoral college system, only a handful of states really matter in the 2012 presidential race. And as of now, those all-important swing states don't look too promising for President Obama. USA Today and Gallup polled Colorado, Florida, Iowa, Michigan, Nevada, New Hampshire, New Mexico, North Carolina, Ohio, Pennsylvania, Virginia, and Wisconsin, and collectively, Obama trails Mitt Romney in those states by five points and Newt Gingrich by three points. Even more ominously, for Obama:
Consider the math: In 2008, when Obama carried the swing states by 8 percentage points, Democrats there swamped Republicans in party identification by 11 points. Now, that partisan edge has tightened to a statistically insignificant 2 points.
While that's a troubling statistic for Obama, he's hardly doomed: The general election campaign, during which Obama will spend approximately one gazillion dollars in a charm offensive on the American electorate, is still months away from commencing. In a campaign in which Newt Gingrich can go from afterthought to juggernaut in a span of about eight minutes, a few percentage points this far away from Election Day is essentially meaningless.