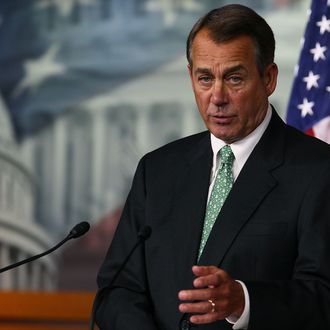 House Speaker John Boehner.
Photo: Mark Wilson/Getty Images
Congress voted today to extend the payroll tax cut for two months after a drawn out battle and eventual capitulation from Republicans in the House. The deal delays a tax increase for 160 million American workers, prevents a payment cut for doctors treating Medicare patients, extends unemployment benefits, and requires the Obama administration to decide on a permit for the Keystone XL pipeline within 60 days.
The Senate passed virtually the same deal earlier, only to have it rejected by a John Boehner–led group in the House, which wanted to add additional unrelated provisions or have the extension last a full year. "This is an issue where an overwhelming number of people in both parties agree," said a frustrated President Obama, echoing political pressure that even came from Senate Republicans. "Has this place gotten so dysfunctional that even when people agree to things, we can't do it?"
Last night, after agreeing to cave, Boehner said, "It might not have been politically the smartest thing in the world. Sometimes it's hard to do the right thing and sometimes it's politically difficult to do the right thing."
Related: The Suicidal House Republicans