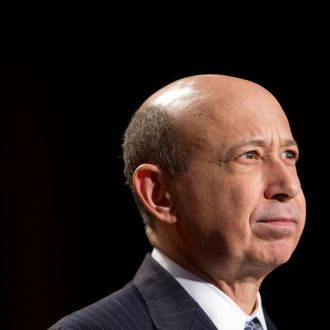 Not gone!
Photo: Bloomberg/2011 Bloomberg
Goldman Sachs did not have a very good 2011. When all is said and done, in fact, it will be the firm's worst year since 2008. And so, not coincidentally, the firm "lost" at least 37 partners this year, according to Bloomberg News.  Since Goldman went public, it only adds partners to a bonus pool in even-numbered years. Last year, the pool got all the way up to 475 members (110 of them new) before this year's attrition.
"I retired from GS after a fantastic 15 years entirely for family reasons," one departing partner told Bloomberg. But there are other theories as to why family reasons might suddenly seem more pressing.
Banks face new regulations and capital requirements that may crimp profits. Protests, some aimed at Goldman Sachs, have decried Wall Street bonuses after taxpayers rescued the financial system in 2008. Demonstrators have disrupted bank recruiting on college campuses and about 250 gathered this week in front of the company's headquarters chanting "Take the ax to Goldman Sachs."

Goldman Sachs shares have swooned 43 percent this year and net earnings tumbled 43 percent in the nine months ended Sept. 30. The company set aside $10 billion for compensation in the first three quarters, enough to pay each worker $292,836 for the period, down from $370,706 a year earlier.
Smaller pot, split more ways.