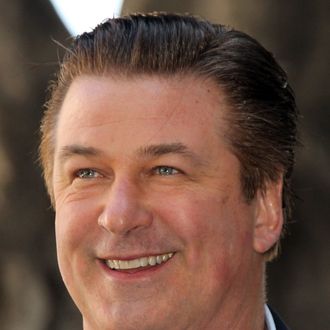 Photo: Frederick M. Brown/2011 Getty Images
In the Paper of Record today, Kate Taylor reports on the rich-people cocktail-party game of choosing New York City's next mayor. The three favorites, as the Times sees it, are all Democratic politicians, including City Council speaker Christine Quinn, public advocate Bill de Blasio, and former comptroller Bill Thompson. Anthony Weiner and John Liu are all but ruled out because of scandals, while Mort Zuckerman and Ray Kelly have said they're not interested. Those given less of a chance include Manhattan borough president Scott Stringer, who has Scarlett Johansson on his side, charter school network chief Eva Moskowitz, and former Stock Exchange chairman Dick Grasso, who could run as a Republican. But the Times, serious newspaper that it is, completely ignores a few boldface names who have indicated interest. If the GOP contest has taught us anything, it's that elections are not necessarily serious business. 
There is, of course, Alec Baldwin, he of 30 Rock fame and in-flight Words With Friends fury. He's nowhere to be found in the Times article today. But Baldwin has some larger ambitions, as noted in this magazine's new "Reasons to Love New York" issue. He's certainly flirted publicly with running — and God knows he loves the attention — but he also has an interest in at least a few real-life issues, celebrity baggage notwithstanding.
Less likely is another actor, Kelsey Grammer, who is also not even alluded to in the Times preview, but who would be running on the wide-open Republican side of the ticket. "I have a great career and extraordinary opportunities," he told the New York Post this year. "But I look at my political aspirations as that last piece of my life, where I hope to do something good for people and pay back a little." He was at least self-aware in noting that he has at least one requirement for the job: a "narcissistic personality."
Speaking of narcissists, remember Eliot Spitzer? He was taken down as Client 9, but was then eclipsed by Weiner as a local political hotshot-turned-scumbag and punchline. The CNN thing didn't work out, but it did serve as something of a buffer in public perception. The Post, which clearly relishes in a brand of guessing and rumors that the Times won't deign to cover, reported that Spitzer is "clearly fantasizing" about a run in 2013. Let's just not rule anything out, that's all.