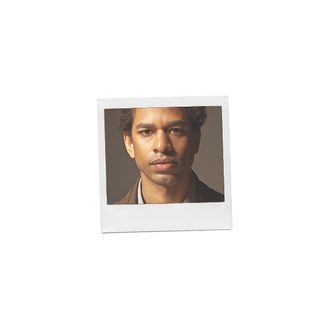 Name: Touré
Age: 40
Neighborhood: Fort Greene, Brooklyn
Occupation: Television host; Who's Afraid of Post-Blackness?: What It Means to Be Black Now, out now.
Who's your favorite New Yorker, living or dead, real or fictional?
I gotta say Malcolm X. In many ways he was the embodiment of the city: larger than life, brash, bold, courageous, influential, and a self-crowned king. His speech rhythms borrowed much from the jazz being made in New York in his day and would inform the hip hop that would be made in New York later. [He's also one of the] great immigrants who came and helped continue New York's reputation of being peopled by gargantuan people who could change the world.
What's the best meal you've eaten in New York?
Each Nobu experience is memorable, but Blue Ribbon constantly kills me — I get chicken wings and lamb and mashed potatoes and my taste buds dance throughout the meal. Makes me hungry just thinking about it now. 
In one sentence, what do you actually do all day in your job?
I think out loud and try to expand the complexity of how people see things, be it politics or hip hop or Blackness or film or life or America. 
What was your first job in New York?
I was a food runner on the overnight shift at the Coffee Shop. Saw lots of stars, met lots of beautiful people, learned about New York's speed and late nights. A good early education. 
What's the last thing you saw on Broadway?
The Motherfucker With the Hat. Great play. 
What's your drink?
Caipirinha. Crisp, cool, with a little bite and, when made well, takes me back to great times in Rio de Janeiro with my then-girlfriend-now-wife. Mojitos are a poor substitute. Like the Caipirinha's spineless cousin. 
How often do you prepare your own meals?
Several times a week. I'm good at making steak, but not much else. 
What's your favorite medication?
Actual medicine? I don't know it if I have a preference. When I get sick, I usually expect it to go away by itself so I don't take anything until I can't take it anymore. 
When's bedtime?
For my kids, it's around 7 p.m., but it's never quick, so that makes it a focal point of my day. Getting to them to bed sometimes takes a lot of energy, and then I've gotta recharge and try to have another burst of productivity. I usually go to bed around 12:30 or 1 a.m., which I always chide myself about, but I'm a night owl. Can't shake it.  
Which do you prefer, the old Times Square or the new Times Square?
Can I choose neither? Both are vulgar in their own way. Old Times Square was vulgar in that it was dangerous and decrepit, a place where you felt like you could lose your wallet or your soul. The modern Times Square is a vulgar open-air palace to commercialism and consumerism and neon and advertising. One good thing is that I don't think real New Yorkers put more time or thought into Times Square than absolutely necessary. It's for tourists.
What do you think of Donald Trump?
Trump is a quintessential New Yorker in many ways. Brash, bold, big mouthed, egotistical, certain he's right even when he's not. But he's also a liar — constantly lying about how much money he has and how important he is and how smart he is. He's the classic man born on third base who thinks he hit a triple. And he's an American obscenity: His self-absorption and media whoredom are gross, and his perversion of the presidential process was disgusting. Carnival barker indeed. 
What do you hate most about living in New York?
Tough question. I grew up in Boston with parents who'd lived here and talked a lot about how great New York is, so I grew up enthralled with the romance of New York. So even the bad parts of New York (the traffic, the expense, the depressing prevalence of homeless people) are part of the price of living here and taking advantage of all the great things. New York has been the greatest friend imaginable: always ready to play, always down to do anything, and always available to take it to the next level.
When's the last time you drove a car?
Minutes ago. I love having a car in New York. It's counterintuitive, but on weekday nights and on weekends it can be fun, and it can make the non-Manhattan parts of the city much more accessible. Plus the car is such a great place to listen to music.
How has the Wall Street crash affected you?
I lost some money, but, for the most part, I don't think it affected me any more than any other American who doesn't work on Wall Street. 
Times, Post, or Daily News?
NY Times, no doubt. Paper version. I rarely even pick up the others.
Where do you go to be alone?
With two little kids, it can be hard to find alone space. I used to go to my book agent's office and sometimes to an office at Fuse, and sometimes I hole up in a green room at NBC for a while, but in the near future, I'm going to get a space at the Brooklyn Writer's Room and use that.  
What makes someone a New Yorker?
I think it's about committing to live here and being a part of this wild symphony. You don't have to live here a certain amount of time because New York's immigrants matter. You have to just have an intense relationship with the city, especially a relationship that's with more than just Manhattan.