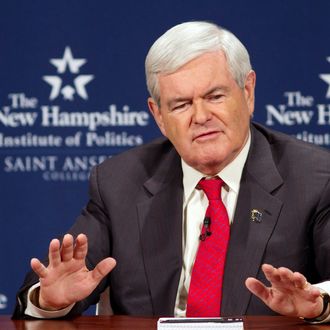 Not so fast, Newt.
Photo: Matthew Cavanaugh/2011 Getty Images
A University of Iowa poll that came out yesterday showed Newt Gingrich sliding precipitously over the last several days: >
Yesterday, we posted an Iowa poll from the University of Iowa. It showed Gingrich with a nine and a half point lead (29.8 to 20.3) over Romney, who was in second place. However, there was an aspect of the poll that wasn't reported here: the decline in Gingrich's support that the poll captured.

The poll was conducted over a one week period. According to Reuters, who co-sponsored the poll, during the first half of the survey Gingrich clocked in at a whopping 37.7%; however, during the last three days of polling, he had fallen to 24.4% — a decline of 13.3% in a matter of days.
And today a new PPP poll also has Gingrich's lead falling, and his favorability ratings plunging from +31 to +12. What has caused this? Everybody is ganging up on Newt in Iowa. Mitt Romney is ponying up for a $3.1 million ad buy, and that money goes pretty far in Iowa. Ron Paul has decided, for reasons known only to Ron Paul, to unleash his moneybomb in the form of a brutal advertising assault on Gingrich, also in Iowa. Meanwhile, the entire Republican Establishment is justifiably freaking out about the possibility of a Gingrich nomination, and just about every conservative columnist is channeling their angst.
The interesting question will be if Gingrich has, or can obtain, enough money to punch back.