FiveThirtyEight's Nate Silver is working on a forecasting model for the upcoming primaries, we (his Twitter followers) learned today, which is no easy task. Below are two graphics he released showing winning odds for the 2008 Republican presidential candidates in the days leading up to two of the earliest primaries.
First, check out this spread over the month leading up to the New Hampshire event: Mitt Romney led the pack, but a Rudy Giuliani, John McCain, or even Mike Huckabee victory were clear possibilities. (McCain ultimately took New Hampshire with 38 percent of the vote, to Romney's 32. Huckabee had 16 and Giuliani just 9, having thrown all his eggs into the late-January Florida basket.)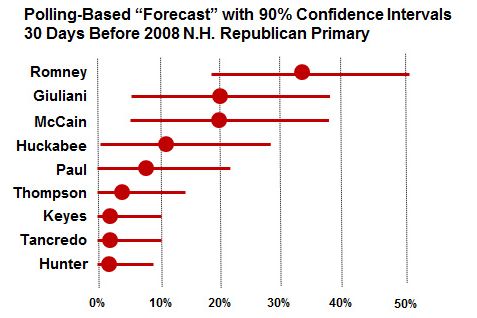 Two contests later and it was South Carolina's turn. Huckabee, Mr. Arkansas Pastor, had been an early favorite in this Southern state, and was an easy bet after winning the Iowa caucuses. (Hence the big spike around the fifteen-day mark.) But then he earned zero delegates in Wyoming and his odds quickly crashed, helped along by a third-place showing in New Hampshire. McCain's win in the Granite State (around the six-day mark) propelled him to nearly 90 percent odds in South Carolina. It was only Huckabee's semi-decent showing in Michigan and McCain's surprising weakness in Nevada that led their odds to converge, but not by enough.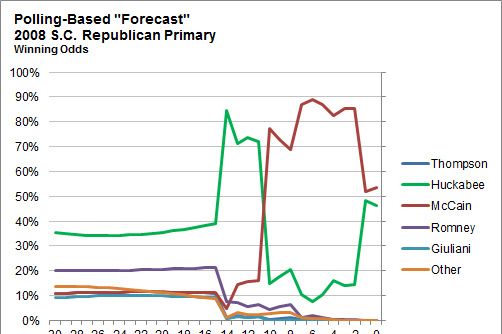 While forecasting more than one primary or caucus into the future seems a risky business, we'll hold off final judgement on Silver's plan until he reveals it to the world fully-formed.