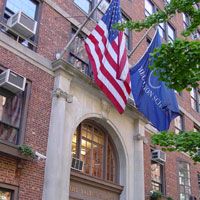 Photo: Courtesy of The Dalton School
Last year in a New York poll of the city's machers, Bill Keller, ex-editor of the New York Times and a man with no small degree of influence himself, named Elisabeth "Babby" Krents the most powerful person in the city. Today, the Times dove a little bit deeper into the Babby issue, profiling Dalton's director of admissions. Perhaps more telling on the subject of her power than Keller's endorsement: The paper couldn't get a single Dalton parent to go on the record by name with comments about Krents. Instead, like many a frustrated reporter before her, Jenny Anderson took to online message boards:
Yet in certain living rooms, in coffee shops and on Web sites, Ms. Krents, 61, incites the kind of fear and fascination usually reserved for a head of state or an over-covered celebrity.

"When sending thank you to Babby, address envelope to 'Elisabeth Krents,' correct? And leave off 'PhD'?" one anxious parent asked on the online forum Urban Baby.
In person, though, don't call her by her given name — only her mother called her that, though Krents denies she dislikes it. "I lived in fear of her because of all the rumors," one mother told the paper anonymously. What kind of rumors? Baby-eating? Mob ties? A dungeon full of the souls of rejected applicants? Far worse!
Perhaps it is her affability that feeds the "Babby" divide. Those who meet her like her. But most of their children will inevitably be rejected, so the warmth is often clouded, if not replaced, by feelings of resentment — hence the not-nice things that proliferate on the Web and in certain kaffeeklatsches.
She's nice.