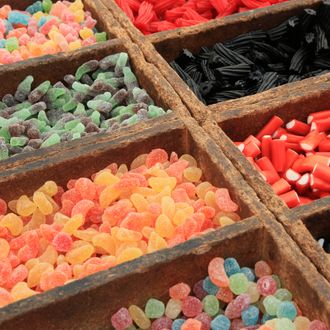 Skankkkkyyyyy.
Photo: S.French
Sugar & Plumm Purveyors of Yumm, a budding chain candy store, is moving to the Upper West Side, much to the dismay of neighbors who dislike its malls-of-America aesthetic. (The store did indeed begin at New Jersey's Bergen Town Center Mall.) The Landmark Commission has now officially sided with the irate neighbors, and found the place's proposed layout "too cutesie," which really shouldn't have come as a surprise; this is an establishment with a name that not only rhymes, but contains a totally extraneous letter to really point out that rhyme. The Commission had some fairly harsh words to express how thoroughly uncharming they find the store's charm offensive:
LPC Vice Chair Pablo Vengoechea said architects failed to consider the building as a whole when they designed Sugar & Plumm's new store. He called the multi-colored lights "cutesie" and said they appeared to be "tacked on" to the building.

"The whole thing needs to be toned down," Vengoechea said. "They're not looking at the building. [The proposed design] could be anywhere in New York City or anwhere in the United States."

Commissioner Elizabeth Ryan advised Sugar & Plumm to try to a lower-profile look. "The coolest places in New York City have no signs at all," Ryan said. "By over-signing, you're showing you're afraid they won't find you."


One commissioner said Sugar & Plumm's facade looked "tarted up," while another compared it to a Valentine's Day card.
It wasn't just adult neighbors slut-shaming the candy store and making it feel bad about missing the memo on the speakeasy trend. One local 14-year-old, Ronen Schatsky, was one of four neighbors who testified against the design. Apparently in the Schatsky household, the phrase "kid in a candy store" connotes not simple joy, but rather the deployment of a finely honed eye for minimalist design.