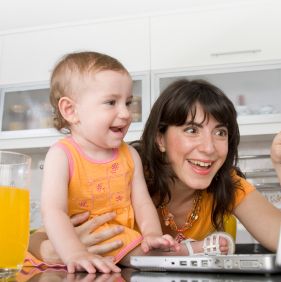 Photo: Ralf Hettler/Copyright by Ralf Hettler
Video chatting on the program Skype is up 900 percent since 2007, and the technology has been added to iPhones and Google as well, earning it a feature in the New York Times about how it's changing the lives of the paper's well-off readers. Excuse me, about how it "reshapes domestic rituals." The timely hook? Hanukkah. Excuse me, "Skypanukkah." Says one company spokesman techno-sentimentalist, "Being able to use Skype on a holiday allows me to basically build a memory with my family that I couldn't have otherwise." Basically.
The service is nondenominational and can be used to open Christmas presents with those far away too. "It was the first Christmas where I didn't feel rushed," said one woman. "I didn't have to travel or worry about packing up the kids. It relieved a lot of stress.
Non-holiday uses include keeping old people entertained, baby showers, pregnancy announcements, and baby-sitting:
During a video call with his parents two years ago, Jeremy Rothman-Shore, 36, of Cambridge, Mass., wanted to buy some soup for his wife, Aviva, pregnant with their second child and down with a cold. He asked his parents, Deborah and Robert Rothman of Rochester if they could entertain his daughter, Ayelet, then 2, for the half-hour he estimated it would take him to go to and from a local Asian restaurant.

"My wife was barely able to sit up," Mr. Rothman-Shore explained. When he returned, Ayelet "was engaged and having a blast."
To hear the Times tell it, the ability for kids to stream themselves live over the Internet makes parenting a breeze. Except, you know, Internet predators. "If your kid's like an audience," one expert explained, "you have to watch out for their behavior, like body parts that can end up on display." Everyone in a long-distance relationship is nodding along.