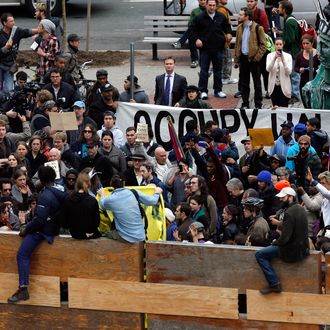 OWS protesters occuping Duarte Square on Nov. 15. (Preston Rescigno/Getty Images)
Photo: Preston Rescigno/2011 Getty Images
Hundreds of Occupy Wall Street protesters today streamed toward the corner of Canal Street and the Avenue of the Americas to re-occupy Duarte Square, right next to New York's offices. The gravel square, dotted with planters and chairs and normally open to the public, is actually owned by Trinity Wall Street Episcopalian church, a onetime supporter of the original Zuccotti Park encampment — providing meeting spaces, electricity, bathrooms, as well as supplies — that now seems more adversary after denying an Occupy request for access to Duarte Square. "Wrong, unsafe, unhealthy and potentially injurious," was how church officials described the proposed occupation.

Already, the AP is reporting that police are pulling down and arresting protesters scaling the chain-link fence that has been barricading the square since November 15, when police pushed occupiers out of Zuccotti Park, flushing many of them into Duarte Square. The Daily News has tweeted that there's been at least one OWS-related arrest so far, with likely more to come.
This standoff may be causing tension within the Episcopalian church, as the Times described in an article yesterday. In the previous days and weeks many sidewalk protests outside Trinity have included other clergy — one sign attached to a Nativity scene read, in part: "There was no room for them in the inn. Trinity has plenty of room." Clergy members were also seen among the crowds at Duarte Square today, at least one holding a placard that read: "Trinity Hero of 9/11. Be a Hero Again." Even South Africa's Archbishop Desmond Tutu has pleaded for the church to "find a way to help."
Trinity's rector, the Rev. James h. Cooper, seems to have the support of his church's leadership — two Episcopalian bishops decried attempts to "trespass on other parish property" and warned Occupy members not to "further alienate potential allies." Here's Cooper writing on the parish's website:
Trinity has probably done as much or more for the protesters than any other institution in the area. Calling this an issue of 'political sanctuary' is manipulative and blind to reality. Equating the desire to seize this property with uprisings against tyranny is misguided, at best.
It remains to be seen whether Trinity will relent in the face of the first major show of strength for the Occupy movement since it was expelled from its original home nearly a month ago. But with winter (we assume) still on its frigid way, it would not be surprising for them to stick to the same public safety and sanitation argument that Mayor Bloomberg invoked on November 15.