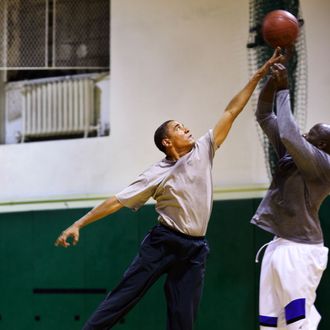 Photo: Pete Souza/White House
Kim Jong-Il was very famous for his feats of athleticism. As the Times notes today, if you took the Dear Leader's alleged achievements at face value, he'd racked up quite a string of them: He "bowled a perfect 300, according to state-run news media" and got five holes-in-one and a 38-under-par his first time on the course ("reportedly"). Of course, the world wouldn't have know about the dictator's fabulous hand–eye coordination without a few yes-men helping along the cult of personality. Probably by leaking e-mails like this one:
"[I]t's been my privilege to help him with whatever he needs: making sure he's on time, finding some food when we're on the road, or playing a quick game of basketball (he won, mostly)." Except that's a line not from a Kim Jong-Il supporter, but a fund-raising missive sent today to Barack Obama supporters on behalf of Reggie Love — the president's body man and an ex-Duke basketball player.
Sure, the president won, mostly. Did he also climb Everest without an oxygen tank and kick an 85-yard-long field goal dead through the posts?
Earlier: Reggie Love Is Leaving the White House: A Bromance, Remembered
Barack Obama's Approach to E-mail Has Been Very Confusing of Late