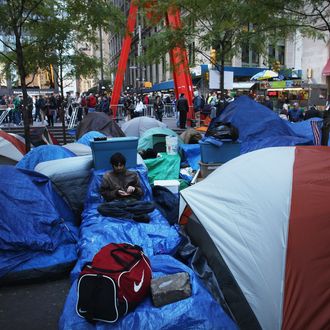 The real Zuccotti.
Photo: Spencer Platt/ Getty Images
While filming an Occupy Wall Street–themed episode at a mock Zuccotti Park (assembled a few blocks uptown at Foley Square), Law & Order: SVU had their shoot disrupted by real protesters, who apparently did not appreciate being ripped from the headlines. The city promptly responded by yanking the show's permit, leaving the Writers Guild of America pissed at both police and protesters, but more disappointed at the demonstrators, especially after having "strongly and actively supported the Occupy Wall Street movement from its inception," according to a letter published by Deadline.
To Occupy Wall Street and the New York Police Department:

The Writers Guild of America, East (WGAE), an affiliate of the AFL-CIO, has strongly and actively supported the Occupy Wall Street movement from its inception. Our union members and staff have participated in many OWS actions, and we have endorsed OWS' important message that corporate greed and economic inequality are wrong.

So we were disappointed to learn that last week people associated with Occupy Wall Street disrupted the set of an episode of Law & Order: SVU, written and produced by members of the WGAE, and crewed by other entertainment industry union members. The demonstrators' actions were as misguided and inappropriate as the City of New York's response – revoking Law & Order's permit for the shoot and directing the dismantling of its set. Presumably the protesters and police did not set out to achieve a common end but together they prevented the scene from being filmed and the story from being told.

Freedom of speech is freedom of speech, whether it is the OWS demonstrators' right to peacefully assemble and protest without fear of retribution or Law & Order's ability to film in the streets of New York and tell its stories without fear of vandalism from protesters or overreaction by the police. New York City has worked very hard to encourage television and film production, and we know it will continue to do so. Everyone who works in the industry supports this, including the Writers Guild, East.

We continue to support Occupy Wall Street's aims and in the tradition of a city with a long history of upholding the right of free, peaceful speech for all, urge both the members of OWS and the police to treat last week's occurrence as an isolated incident, vowing that it not be repeated. We would be happy to meet with your representatives at any time to discuss this further. Thank you for your attention.
As noted by the Observer, the Guild's website still proudly displays its president visiting the real Zuccotti Park. An SVU producer, whose tweets have since been deleted, wrote after the initial ruckus, "co-opted by corporate media — the irony here is the scene we couldn't shoot portrayed OWS in a sympathetic light." We're interested to see how that would work out on a show about sex crimes, so hopefully they can arrange some time on a sound stage somewhere.