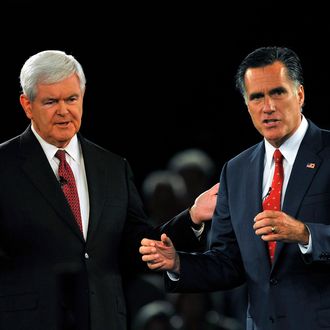 Clash of the GOP titans, take three.
Photo: Photos: Stephen Morton/Getty Images
The latest projections from FiveThirtyEight's Nate Silver now have Newt Gingrich taking 39 percent of the vote tonight and maintaining a nearly 10-point lead over Mitt Romney. Newt's overall chances of winning South Carolina are now 87 percent, in line with Intrade's market predictions. And though Romney's team has already started lowering expectations for tonight, the bad news seems to be metastasizing — Intrade now says he has just a 67 percent chance of garnering the GOP nomination, down from 88 percent less than 48 hours ago. But one Romney aide, it seems, has been drinking from the feel-good Kool-Aid and sees nothing but good news in all this for his candidate.
I think we're going to lose tonight, we could lose big, but I think it's been a terrible week for Gingrich and a great week for us. […] When we go up against Newt, it helps us in the general election. It's not an ideological thing as much as judgment—the total gestalt of it. […] A lot of politics is patience, and picking your opponent.
The argument that Romney needs to actually win the nomination rather than cakewalk to it certainly has some merit. For one, to beat Obama he's going to need some battle-tested supporters at his back, not a lukewarm party base. A protracted primary battle also means voters have longer to get used to the smell of Romney's proverbial dirty laundry before the Obama campaign starts airing it all over again. And as for Romney's one unassailable advantage through this all, it's a biggie: his ample campaign war chest and big-donor network.
But the Romney aide's perspective is still too rosy by a half. A Gingrich win in South Carolina could realistically see the former Speaker also carry Florida, putting him in an early delegate lead. And the more debates there are the more support Romney is bound to lose, all while Gingrich keeps gaining. (After initially waffling, Romney now says he will, in fact, participate in Monday's debate in Tampa.) In the end, though, it's just too hard to ignore how every attack leveled against the onetime front-runner seems to be weakening him, rather than steeling him for the big fight in the fall.