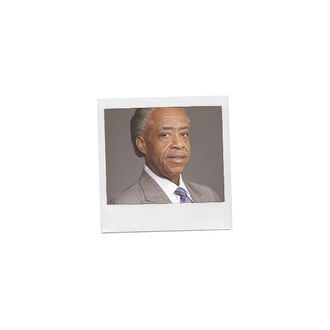 Reverend Al Sharpton
Photo: NBCUniversal
Name:
Reverend Al Sharpton

Age:
57

Neighborhood:
Upper West Side

Occupation
: Host,
MSNBC
's
PoliticsNation
at 6 p.m.
ET
Who's your favorite New Yorker, living or dead, real or fictional?
Former Congressman Adam Clayton Powell Jr. To me, he represented the perfect mixture of sophistication and activism. As a kid growing up in New York I admired him: He was an activist like I wanted to be, but he also had style and class. He was the ultimate New Yorker: He could speak at a rally in Harlem in the morning, and go to the Carlyle hotel and sit ringside for one of the classic jazz pianists at night. Only a New Yorker could do that.
What's the best meal you've eaten in New York?
I'll give you two: I'll give you pre–my last five years of strict dieting, and post. You have to break up my involvement with food. Pre would be Sylvia's fried chicken — leg and thigh — macaroni and cheese, and coleslaw, with peach cobbler at the end. That was pre, the "me-killing myself" diet. Post and present is a Chilean sea bass at Philippe, with the house salad.
In one sentence, what do you actually do all day in your job?
What I do all day is I do three jobs: I run National Action Network early in the morning, I do my syndicated radio show from 1 to 4, then I do Politics Nation with Al Sharpton pre-production from 4:30, go live from 6 to 7, then we do afterstudy and analysis, and then maybe in the evening I might have a speaking engagement. But on a slow day, I do three jobs. 
What was your first job in New York?
I worked for National Youth Movement, a youth civil rights movement I founded at 16. I actually signed my first paycheck.
What's the last thing you saw on Broadway?
The Mountaintop. I thought it was good. I know Samuel Jackson and Angela Bassett, and the artistry was excellent. I argued with some of the stuff they had in there about Dr. King, but it's entertainment, it's not a documentary.
Do you give money to panhandlers?
All the time.
What's your drink?
I don't drink any alcoholic beverages. I drink tea, night and day.

How often do you prepare your own meals?
Very little. I am the best boiler of eggs you know, that's about the extent of my cooking skills.

What's your favorite medication?
Air, while I'm on the treadmill. I like doing inhale-exhale exercises while I'm doing my workout.
What's hanging above your sofa?
Bookshelves.  I have a whole wall of bookshelves.

How much is too much to spend on a haircut?
Over $50. I go up in Harlem, to Betty's on Eighth Avenue.
When's bedtime?
I'm one of these people who goes to bed at 11, 11:30 and am up at 4:30, 5. If I sleep past 5:30, call the doctor.
Which do you prefer, the old Times Square or the new Times Square?
I like the new one. It's so alive — and  I grew up in New York so I knew the old Times Square. When you look at different pictures of the old days, and now you see the videos and the technologies, it's so different. And they even have a screen where people can see themselves walking. I mean, it's amazing.
What do you think of Donald Trump?
I think he's one of the greatest showmen that has monetized it in modern history. He and I don't agree on any politics, but great showman. I know him, and one thing that you know about Trump: If you go to dinner with Trump, he will sit down and say, "How're you doing, how're you doing? That's enough about you," and talk about himself for the next hour. He's easy to get along with: It's all Trump, all the time.
What do you hate most about living in New York?
Probably the traffic. I'm one of these New Yorkers who wants to get where they're going and I get hugely frustrated when traffic is there. I don't drive, so I get even more frustrated and I start hitting the driver: I'm known to get out of the car walk until people start stopping me in the street, then I jump back in the car.
Who is your mortal enemy?
Years ago it would be local figures, but I don't really have any local enemies now. Today, I would say probably some of the Republican candidates. I really have a very negative view of Mr. Gingrich. We toured together, and I think he's really become very divisive.
When's the last time you drove a car?
Never had a license. I'm a New Yorker! I grew up on subways, when I got too well-known to ride them every day I always had somebody in my organization drive me, or I had a driver.

How has the Wall Street crash affected you?
I run a nonprofit — National Action Network —  so it affects our members and our donors a lot and has made impact. And I preach in churches every Sunday and it affects churches. People's incomes, when they become destabilized, their ability to support their churches and community organizations are impacted.
Times, Post, or Daily News?
Times.

Where do you go to be alone?
Home. Or I'm a member of the Grand Havana Room, the cigar club. I go there sometimes on the weekend and get a corner and read the paper — I get the Sunday Times early — and I read the paper by myself and smoke a cigar. That's my one vice.

What makes someone a New Yorker?
Their swag and their pace. Nowhere in the world keeps a New York pace. And only New Yorkers can't settle down anywhere else in the world because they just naturally have a quicker pace. You get out of the bed faster in New York.