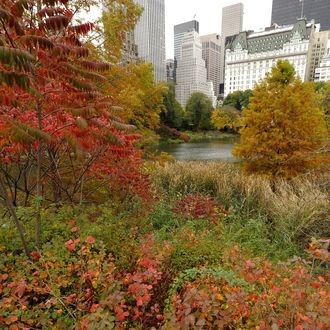 Central Park.
Photo: Timothy A. Clary/AFP/Getty Images
Apparently some Alaskans find it annoying that environmentalists try to prevent them from drilling in the Alaskan National Wildlife Refuge. So they've decided to give New York a taste of its own medicine, reports City Room.  Republican state representative Kyle Johansen has submitted a resolution (in the Alaskan state legislature) asking the federal government to take over Central Park, declare it a wilderness area, and discontinue any further development. The resolution was quite popular up there in Juneau! 
Johansen explains: "What I'm trying to accomplish is to basically make a point of the hypocrisy of — and don't take offense — those East Coast folks who write a lot of checks to shut down Alaska, while in their own backyard, Manhattan has been turned from a pristine wild island supporting an amazing Muir web of life to having only Central Park left as a green belt." He does have a point: Without the Great Lawn, where would wild packs of post-frat boys roam free in khaki shorts holding Coronas and Frisbees the way nature intended? Brooklyn? It's true, they have been increasingly spotted in Prospect Park in recent years, but it's unclear how long they can survive outside of their natural terrain.