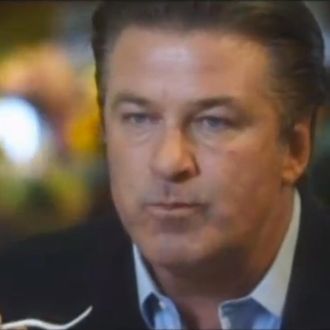 Not good enough to vouch for holiday cheeses.
Anyone you know from upstate or western New York —  say, Buffalo, Rochester, or Syracuse —  has inevitably, at some point, mentioned to you how much they love something called "Wegmans." After they explain to you the majesty and wonder of Wegmans, you say to them, "Oh, so it's like a nice supermarket." To which they respond indignantly, as if you just belittled one of their children's crayon drawings, "It is not just supermarket. It is so much more." You recognize a crazy, unnerving look in their eyes, and you slowly back away. You never speak of Wegmans again. 
Alec Baldwin's mom is one of those Wegmans people. After Baldwin told David Letterman in 2010 that his mom wouldn't move to California because she couldn't "leave Wegmans", both Baldwin and his mom appeared in a holiday-themed Wegmans commercial. The ad was supposed to play again throughout the holiday season this year. But then Baldwin, in an unrelated incident, got kicked off a plane. And that was the end of that commercial:
Wegmans has pulled its Alec Baldwin commercials, following complaints from a few dozen customers….

Wegmans planned to run the holiday-themed Baldwin commercials for a few weeks over the last holiday season. Wegmans said customers began complaining about the ads after the American Airlines incident.

"We did get customer complaints because it was all timed with the incidents," said spokeswoman Jo Natale. "We always listen to customers. We didn't get hundreds of complaints, but a few dozen."
It may seem like an overreaction, but you can't really blame them. These are not just regular Joe Schlubs, like you and I. These are Wegmans customers, conditioned by their shopping experience to expect utter perfection in all aspects of life. Anything less than the best produce, the freshest prepared foods, the widest aisles, and the most morally faultless occasional TV pitchmen is simply unacceptable. 
Update: Following an even more resounding outcry over its decision to take down the ad, Wegmans has announced that it will air the commercials once again:  
"We regret ending the Alec Baldwin holiday commercials one week earlier than planned in response to a couple of dozen complaints. We have decided to run the commercials again, effective immediately.

Clearly, many more people support Alec, as evidenced by the hundreds and hundreds of tweets, emails, and phone calls we have received. We enjoyed working with Alec Baldwin and his mom, Carol, and would do it again. We appreciate all the kind things they have said about Wegmans and respect the good work they do for communities."
Update II: There are apparently no hard feelings between Baldwin and Wegmans, thank god. Baldwin's spokesman tells us, "We appreciated the response and the sentiments expressed in their statement."