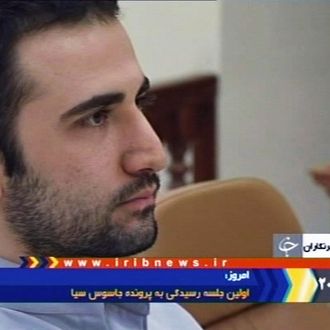 Amir Mirzaei Hekmati, a former United States Marine, was sentenced to death in Iran for "cooperating with the hostile country and spying for the C.I.A.," according to Iranian media. "The court found him Corrupt on Earth and Mohareb (waging war on God)," the news agency Fars reported today. The 28-year-old Iranian-American was captured in August and accused of receiving espionage training in Afghanistan and Iraq, while his family insists he was just visiting relatives in Iran.
Last month, Hekmati confessed in a video shown on state television. "Our intelligence apparatus had complete information about the activities of the arrested spies," said Iranian intelligence minister Heydar Moslehi, who claimed the U.S. had sent a network of spies intent on disrupting parliamentary elections. "The detainees were in contact with abroad through cyberspace networks. We arrested them after we obtained full information about their espionage activities."
The director of the New York-based International Campaign for Human Rights in Iran called Hekmati's punishment "a very shocking sentence." Hekmati is the first American in Iran to receive a death sentence in more than three decades. The State Department has demanded his release, adding to the ever-lengthening list of tensions between the U.S. and Iran.