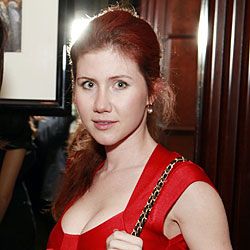 Super sexual Russian spy Anna Chapman continues to be super and sexual in the motherland, where she stars in a television show, drives a black Porsche, and hangs out with Vladimir Putin — underwater. Capital New York has a huge feature on the international gossip darling and she's as alluring as ever, maintaining her magical spell over ex-boyfriends and flirting relentlessly with the article's author, Brett Forrest. But she'll never forget those who got her where she is today: New York City tabloids.
Chapman remembers fondly when fame "dropped on [her] head":
Her New York defense attorney, Baum, delivered her newspapers, including the New York Post, which ran her photo on its front page seven times during her 11-day internment in the summer of 2010. She began to understand that her life was being diverted to a new course.

"I remember this moment," Chapman told me, "and it's a very precious moment."
That moment is ongoing, as Forrest details various meetings with Chapman over the last year, including trips to design her fashion line and check out a circus she was thinking about buying. That's not all:
She is developing a science-fiction cartoon series starring a red-headed girl who is not named Anna. She has released a poker app for the mobile web, talks sometimes about her ideas for an Anna-branded perfume, says she wants to find a ghostwriter to compose a book about business, all the while sifting through the hundreds of requests for friendship that she receives on her Facebook account each day.
Ah, the Facebook account. Money is no object ("These guys in the bank told me I can get however much money I need," she said) and connections are easier. "Anna is Putin's girl," says one associate. She even took a ride in his personal submarine (not a metaphor).
"If I want to meet anyone — the C.E.O. of the biggest company — really, I can," Chapman explains. "I can just call them up, and they are happy to meet with me." Thrilled, we suspect.