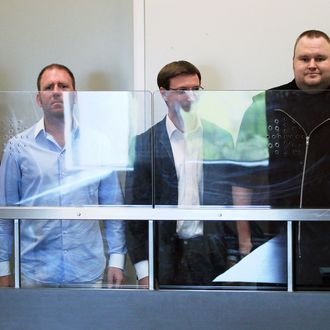 Megupload founder Kim Dotcom.
Photo: Greg Bowker/AP
Following the U.S. government's seizure of Megaupload.com and its related file-sharing domains yesterday, the loose hacktivist collective Anonymous brought down the websites of the Justice Department, Universal Music Group, the Recording Industry Association of America, and the Motion Picture Association of America. The DDoS attacks, which overloaded the targeted sites with activity until they crashed, were meant as retaliation for the FBI takedown of the popular "cyber locker," where users could share music, movies, and more, both legally and illegally. At the center of the case is Kim Dotcom, formerly Kim Tim Jim Vestor and before that Kim Schmitz, the "founder, former CEO, and current chief innovation officer" of Megaupload. This bizarre man became very rich before he was busted, and now parts of the Internet have already mobilized in solidarity with what he created.
Megaupload is charged with doing half a billion dollars in damage to copyright holders like record labels and movie studios, and with making $175 million on the largely illegal content by way of paid accounts (for quicker user downloads) and paid advertising. The indictment is being touted as one of the largest criminal copyright cases ever brought by the United States.
Dotcom, 37, was one of four people arrested yesterday (three are still at large) in Auckland, New Zealand, where police showed up in two helicopters, the New York Times reports. Inside the Dotcom mansion, the founder "retreated into a safe room, and the police had to cut their way in. He was eventually arrested with a firearm close by that the police said appeared to be a shortened shotgun." Authorities seized $4.8 million in luxury cars, "including a Rolls-Royce Phantom Drophead Coupe and a pink 1959 Cadillac. They also seized art and electronic equipment and froze 11 million dollars in cash in various accounts." (The full indictment, and all of Dotcom's seized assets, can be viewed here.)
Despite its mastermind's peculiarities — he "casts himself in flamboyant YouTube videos" and calls himself Dr. Evil — some vocal online activists have immediately made Megaupload a symbol of what's at stake in the ongoing fight against anti-piracy legislation like the bills SOPA and PIPA. Many were quick to call the bust a reaction to the Internet's blackout against the legislation just a day earlier, although the government denied that the timing was intentional. "Let's just say, for #SOPA supporters their #SOPAblackout is today," Anonymous tweeted after news of the indictment.
Not heard from in the ruckus was the producer Swizz Beatz, who was previously listed on Megaupload's website as CEO. He was not charged and declined to comment through a representative. While his exact role in the site remains vague, he might very well be responsible for the star-studded pro-Megaupload music video, starring Kanye West, will.i.am, and Kim Kardashian, that surfaced last month. For now, the site is gone, and with it, all user files, but the strange song plays on.
Update: Megaupload's attorney says, "Swizz Beatz was never involved in any meaningful way. He was negotiating to become the CEO, but it was never official."