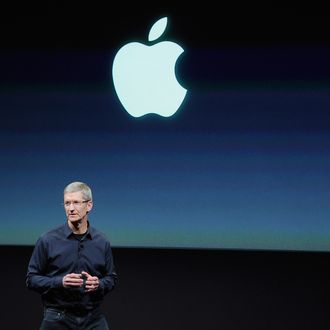 Cook announces the iPhone 4S.
Photo: Kevork Djansezian/2011 Getty Images
Profits last quarter were huge for Apple, which rode iPhone 4S sales all the way to the bank despite some initial grumbling from nerds on the Internet. Sales doubled year-over-year for the period ending December 31, as the company moved 37 million iPhones during the holidays, which also happened to be the first quarter since the death of co-founder Steve Jobs. Along with the iPad, the phones now account for 72 percent of total revenue. While the company's stock dipped a bit before the earnings report, the good news sent shares up 8 percent in after-hours trading."Apple's momentum is incredibly strong, and we have some amazing new products in the pipeline," said CEO Tim Cook slyly.