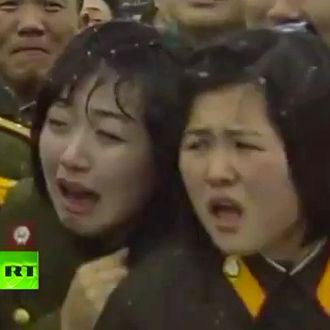 Remember all those North Korean people sobbing uncontrollably in the streets during Kim Jong-Il's funeral a few weeks ago, as if possessed by emotionally unstable ghosts? It wasn't because they loved him. It wasn't even because they were being shown sad videos on a giant TV screen, we now know. It was because of this:
North Korea's hardline regime is punishing those who did not cry at the death of dictator Kim Jong-il, according to reports….

The informant from North Hamkyung Province told the website: 'The authorities are handing down at least six months in a labour-training camp to anybody who didn't participate in the organised gatherings during the mourning period, or who did participate but didn't cry and didn't seem genuine.'
Uh, which part of this seems genuine?