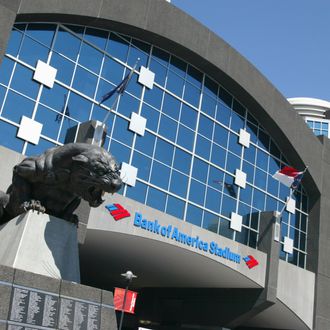 A view of the exterior of the Bank of America Stadium taken before the game between the New Orleans Saints and the Carolina Panthers at Bank of America Stadium on September 11, 2005 in Charlotte, North Carolina.
Photo: Craig Jones/Getty Images
Big changes atop Bank of America's investment banking division after a shaky 2011 where the bank's income dropped nearly $3 billion from the previous year, owing in large part to European debt woes. Bank of America has named 42-year-old Christian Meissner head of global investment banking, and two other top executives will assume new roles in the division. They will all answer to co-CEO Thomas Montag, who announced the changes to employees in a memo on Sunday. "The new structure is a natural evolution of our corporate and investment-banking model as we continue to adapt to a changing market environment," Montag wrote.