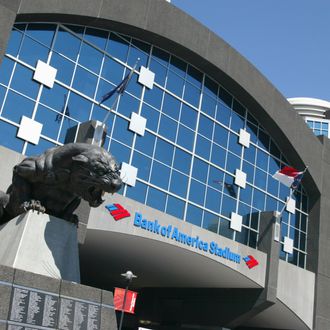 At least the word "America" is in there.
Photo: Craig Jones/Getty Images
This is a little awkward, but it's not like there's a 74,000-seat "Our Brave Men and Women in Uniform Stadium" at which Obama could give his acceptance speech:
>
On the final night of this fall's Democratic National Convention, President Barack Obama will deliver his acceptance speech at Bank of America stadium, party sources told the Observer on Monday night …

The move, which would open the speech to the public, is designed to help mobilize voters in North Carolina, a key swing state. It could also serve as a perk to donors, who could be rewarded with skybox seats.
Just as in 2008, only Obama's speech will be delivered in a huge football stadium, while the rest of the convention is taking place in a slightly smaller venue — hopefully one that isn't named for a company everyone hates!
The president will accept the nomination Sept. 6. So far, organizers have said only that plans call for holding the convention at Time Warner Cable Arena.