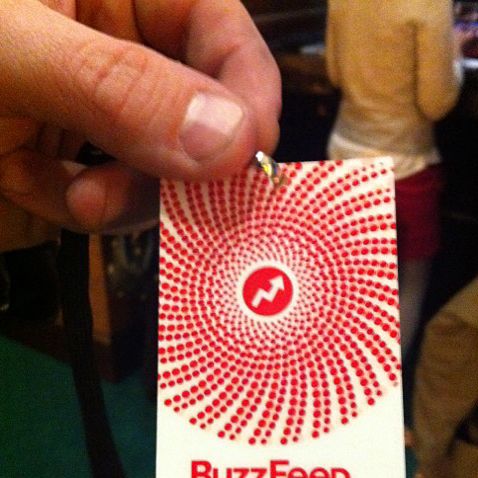 Buzzfeed's futuristic press pass.
Photo: Gabriel Sherman
At the zoo that is the Iowa Caucus, the lobby bar in the downtown Des Moines Marriott is like a communal watering hole where roving packs of reporters, political hacks, and even candidates assemble nightly to drain drinks and exchange political gossip. New arrivals can cause heads to turn, like when Jill Abramson and Maureen Dowd entered the bar around 7:30 p.m. on New Year's Eve before hosting a dinner for New York Times staffers. A few moments later, Mitt Romney sparked chatter when he hustled by the front desk pulling his own roller bag, looking like the Bain consultant road warrior he once was.
Last night, it was Buzzfeed's new editor-in-chief Ben Smith who occupied the room's attention as he mingled through the lobby, talking with Esquire writer Charlie Pierce and Drudge's deputy Charlie Hurt, among others. In early December, Smith announced he was jumping from his high-profile perch at Politico to start a newsroom at Buzzfeed, the aggregation site best known for viral cat videos. Smith's move confounded reporters and media watchers, and became something of a crystallizing moment that confirmed (once again) that the web continues to obliterate old journalism models and hierarchies. 
"It was a mind fuck," Smith told me, explaining the reaction of his sources and fellow reporters when the move was announced last month. "There was a reaction that this makes no sense, so I have to pretend it makes sense. But I think it makes perfect sense, though not in an obvious way. Buzzfeed is going to change a lot." 
But what, exactly, is Buzzfeed? Smith's first official day on the job provided an initial glimpse of the site's ambitions. "This is a bit of a demonstration project," Smith told me. He had arrived in Iowa on New Year's Day to lead a three-person reporting team that had fanned out across the state to cover the race — Zeke Miller, formerly of Henry Blodget's Business Insider, was trailing Romney as he stumped in the far west of the state in Sioux Falls. The early mix of stories shows that Smith intends for Buzzfeed to play both high and low, mixing serious political reporting and news scoops with clickable content. Earlier that day, Smith had broken a story about Ron Paul's plan to master the arcane rules of winning delegates in overlooked states, much as Obama did in 2008, that carried the alluring headline "Ron Paul's Secret Plan to Actually Win." The article was followed by blogger Matt Stopera's photo gallery of voters at a Rick Santorum event explaining why they're backing the former Pennsylvania Senator in "five words or less." 
"I think we're a competitive news organization," Smith told me. "We're going to cover the hell out of politics. The timing is such that this carnival happens once every four years and we couldn't miss it."
At Politico, Smith saw firsthand how quickly a new site can establish itself. In many ways, by launching Buzzfeed's newsroom at the Iowa Caucus, he's replicating the playbook of his former employer, which piggybacked off the epic 2008 presidential election to build a franchise. "We're not going into the business against Politico," he cautioned. But in one sense Buzzfeed's ambitions are bigger: It's a general interest site, and "politics is one of several verticals" planned for rollout, according to Smith. 
As Smith bounced around the room, reporters were eager to get a look at his new Buzzfeed press pass, with its swirling red and white logo. "I have a great press pass," Smith told me, showing it off. "It looks like we're from the future and we're here to check your radiation levels." 
While the 2012 primary has so far played out on cable news, and most visibly on Fox News, this year's contest will be the first election of the social media era. The fact that a site like Buzzfeed, whose premise is built explicitly on creating stories that readers want to share with their friends, is attracting the attention of the political class shows how radically the media landscape is shifting. "I think the industry has blown up to a degree at this point where people are like, 'oh you work for a company that makes hot dogs and you also report?'" Smith said. "'I don't know what that is, but it sounds like you have a press pass.'"