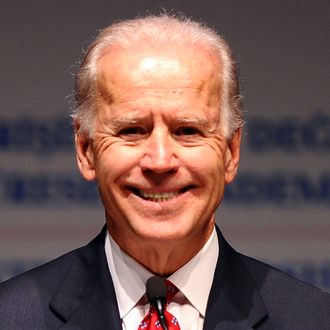 That's our Joe!
Photo: Mustafa Ozer/AFP/Getty Images
It's been a while since Joe Biden did something … Biden-esque. The streak ended yesterday at a fund-raising luncheon in San Francisco, attended by over 100 donors who shelled out $2,500 to $10,000 each to hear the vice-president speak: 
>
[Biden's] only gaffe came as he sought a football metaphor and spoke of the "Giants on their way to the Super Bowl," bringing good-natured boos.  
The New York Giants, you are surely aware, will battle the San Francisco 49ers this Sunday for the right to play in the Super Bowl.
He quickly apologized, saying he's used to citing the San Francisco Giants' baseball victories, and then went on to talk about the "49ers on their way" to the big game.