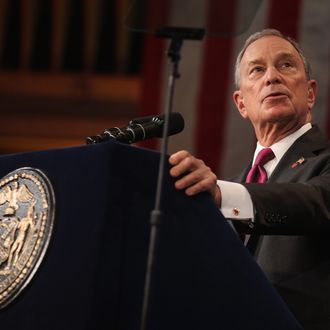 Bloomberg.
Photo: Mario Tama/2012 Getty Images
It's a beautiful thing when political needs coincide to produce gains for actual citizens. The Bronx borough president, Ruben Diaz Jr., needed to beef up his record of economic development as he considers a run for citywide office. The mayor, Michael Bloomberg, needed to change the conversation after a month of jousting with Governor Andrew Cuomo. Add the dumb luck that the annual State of the City speech was scheduled for the Bronx this year — Bloomberg rotates the location between the five boroughs — and voilà, a three-year standoff ended. The city will once again start taking bids to repurpose the Kingsbridge Armory; Diaz has dropped his demand that any new, city-subsidized Kingsbridge employer pay a "living wage," which scuttled a 2008 deal to turn the armory into a retail mall and infuriated Bloomberg.
The new deal was announced yesterday, cannily boosting interest in today's speech and introducing its themes of harmony, cooperation, and teamwork. Bloomberg spread credit to his commissioners and to private donors for their roles in completing projects and improvised repeated references to "how well Ruben and I work together, no matter what you've read." And the bulk of the hour-long address, delivered in the grandly gothic auditorium of Morris High School, was a reminder of just how many day-to-day lives city government touches, in important ways that don't make headlines, from turning waste water into renewable energy to employment assistance for military vets to artist rehearsal space on Governors Island. The mayor promised to push in interesting, substantive directions, like supporting an increase in the state's minimum wage (something that would have the side benefit of undercutting labor's efforts to pass a living wage law in the City Council) and adding lawyers to the city's police corruption commission (a mild nod to the NYPD's bumpy 2011). The loudest, longest applause from the non-politician, civilian part of the crowd came when Bloomberg vowed to lead an effort to enact a state version of the Dream Act, which would allow the children of illegal immigrants to qualify for grants and scholarships. The biggest laughs went to Ed Koch, welcoming cars to "his" bridge during a video. The afternoon was peace and harmony and uplift.
Except when it decidedly wasn't. The mayor renewed, with a vengeance, his battle with the United Federation of Teachers. Bloomberg introduced an intriguing proposal to attract new teachers, offering to repay up to $25,000 in student loans for those who graduate in the top of their college class and then come to work in the public schools. And he offered raises of $20,000 to current teachers who are rated "highly effective" in consecutive years. But it's that rating thing that will set off sparks — already has, actually, leading to the loss of tens of millions in federal education aid. In the absence of a negotiated agreement on how to evaluate and fire teachers, Bloomberg threatened to create "school-based committees" that could whack up to 50 percent of the faculty. The union's reaction was depressingly predictable: "The Mayor seems to be lost in his own fantasy world," responded UFT president Mike Mulgrew.
A Bloomberg commissioner, walking out into the rainy mist after the speech, was anxiously listing the hundreds of projects he needs to complete by December 31, 2013. That's the end of the mayor's third term, and it's the relevant deadline for physical works-in-progress. But Bloomberg knows the political clock is ticking much faster. Would-be successors Christine Quinn, Bill De Blasio, Scott Stringer, and John Liu were energetically working the room today (though the only pol dancing along with the school's fierce salsa band was Manhattan D.A. Cy Vance). A year from now, when Bloomberg delivers his final State of the City, the race to replace him will be at full boil and the lame-duck incumbent will wield considerably less power. The mayor has never lacked a sense of urgency. But he clearly sees that time is running out on his chance to improve the school system, and he isn't going to waste a minute pretending to play nice.