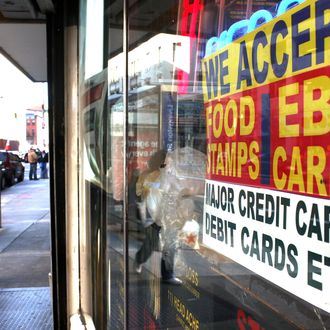 Photo: Spencer Platt/2010 Getty Images
New York City is the only area in the state, and one of only two in the nation, that continues to require fingerprints for access to food stamps. Governor Cuomo this week announced plans to nix the rule, calling it an unnecessary "stigma," but the mayor isn't pleased. "Good fences make good neighbors," said billionaire Bloomberg. "There's just no reason that I know of why you shouldn't do [fingerprinting on] food stamps as a prophylactic measure to ensure the public that the only people who are getting benefits that the public are paying for are those that deserve it." Even his ally and potential successor Christine Quinn disagrees.
"Move on," said Quinn to the mayor. "Fingerprinting food-stamp applications is an unnecessary, time-consuming, stigmatizing process that I believe criminalizes poverty." Cuomo said, "[D]on't make a child go to bed hungry because your government wants to come up with a fraud program that requires fingerprinting." Public Advocate Bill de Blasio called Bloomberg's "doubling down" on the practice "perverse, and destructive to the many New York families and children who are going to bed hungry every night."
But Bloomberg is stubborn, saying there is "no stigma attached to being fingerprinted." He added, "most companies fingerprint in this day and age, at least the smart ones do." While employees at Bloomberg LP, the mayor's company, do use fingerprints to access their computers, the company does not fingerprint incoming employees.