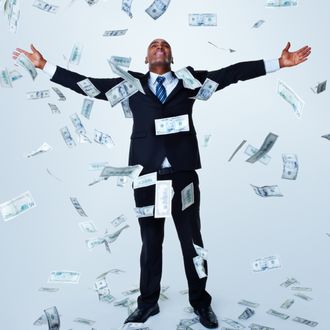 It's rainin' yen.
Photo: istockphoto
2011 was not a good year for most hedge funds. Look no further than John Paulson, the hedge-fund king who so famously not just weathered but profited insanely off of 2008's market turmoil. This year, though, some of Paulson's funds dipped as much as 50 percent. So who was the Paulson of last year? A very large hedge fund: Bridgewater, the world's biggest, in fact. Average returns for hedge funds last year hovered around 5 percent — in the loss column — but at Ray Dalio–led Bridgewater, they turned a 23 percent profit, reports DealBook. The bets that paid off reportedly were in U.S. Treasuries, German bonds, and Japanese yen.
Bridgewater's success isn't the only unusual thing about the fund; the firms' culture is also a unique one, but not in a let's-skateboard-through-the-office-and-wear-sweats-to-work kind of way.
Mr. Dalio, a graduate of Harvard Business School, is a fervent disciple of radical transparency, a set of beliefs that preaches the pursuit of truth at all costs. For instance, midlevel employees can criticize top management if they think a certain market position is foolish.

[…]

Bridgewater's office in Westport, Conn., has a Big Brother vibe, employees say. Overhead videocameras tape employees throughout the day. To root out problematic behavior, employees are subjected to withering critiques from co-workers. These sessions are recorded and, in the interest of transparency, anyone can pull a copy of the video from the hedge fund's library.
Sounds … fun? Don't want to say anything else, in case they're listening.