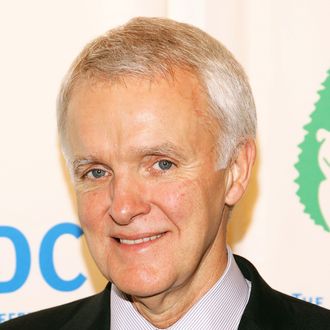 Kerrey.
Photo: Stephen Lovekin/Getty Images
Bob Kerrey, the former president of the New School, is considering a new job.* He, apparently, feels most comfortable in an environment where no one gets anything done until the last possible minute, and no one is quite mature enough to work with people they don't like. No, he's not seeking another post working with undergraduates; he's looking to possibly run for the U.S. Senate again. Nebraska senator Ben Nelson's retirement left the state's Democratic party scrambling for someone who could appeal in the conservative state, so they turned to Kerrey, a popular former Nebraska senator now living in Greenwich Village.
But, reports the Times, it's going to be all too easy to tag Kerrey as worse than a carpetbagger: He's now seen as the guy who turned his back on the home state to make money in the Great and Powerful East. Kerrey hasn't even declared his candidacy, and the GOP has already aired ads slagging his "East Coast liberal agenda." Another group calls him "Big Apple Bob," which actually sounds more folksy than elitist, like a carnival game you'd play at the Nebraska State Fair. (Free business idea in case the Senate doesn't work out, Bob.)
Kerrey's hardly alone among  senators in leaving the home state after his time in Washington.
More than 40 percent of former senators now live outside their home states, according to the Senate Historical Office, most in the Washington area. Such relocations are particularly jarring here in the Midwest, where leaders have long worked to stop the outflow of promising young residents and dispel the notion that opportunity is in short supply locally. Undermining that official line is the fact that the politicians pledging to stop the outflow often move out as well.
And yet it might not be the zip code that's the biggest stumbling block for Kerrey, of which he's well aware. "It's a very Republican, very conservative state," he told the Times. "I'm going to have much bigger problems if I run in Nebraska than whether or not I've been living there for the last 11 years."
* The original version of this sentence failed to note that Kerrey is the former, not current, president of the New School.