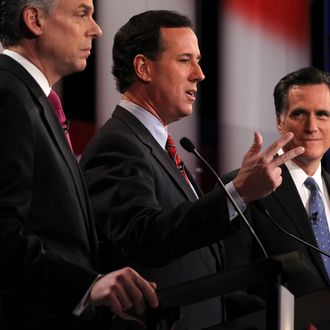 Rick Santorum, Mitt Romney. (Alex Wong/Getty Images)
Photo: Alex Wong/2012 Getty Images
How evangelical Christians vote in South Carolina may very well stop Mitt Romney's cakewalk to the nomination or prove that the religious right is no longer the political force it once was in the GOP. Making up 60 percent of South Carolina voting Republicans four years ago, evangelicals have long been cast as a monolithic voting bloc that you simply must win over as a Republican — they are, after all, credited with helping George W. Bush win two terms as president. In 2008, only 11 percent of evangelicals in the South Carolina primary voted for Romney, a Mormon. That was certainly part of the reason he finished in fourth place there. But this time around may be different for both evangelicals and Romney.
Though Romney was not even a contender in Friday's Texas gathering of evangelical leaders that crowned Rick Santorum, a Catholic, as the social conservative standard-bearer, the Miami Herald tracked down several Southern Baptist leaders who grudgingly agreed Romney might have to do. As for Santorum, very few think it likely that his strong evangelical endorsement will swing enough votes his way to eke out a win. NPR's senior Washington editor Ron Elving perfectly captures what's at stake for the religious right:
It may well be a revelation of their weakness as a force within the GOP. Because if Romney still wins the South Carolina primary next weekend, this final flailing attempt to stop him will make his victory all the more important — and his eventual nomination all the more inevitable.
In this scenario, evangelicals will be left with an unenviable decision on their hands: swallow hard and vote a Mormon into the White House, or don't show up in November and risk reelecting Barack Obama.
Related: Evangelical Gathering Picks Santorum as Their Champion