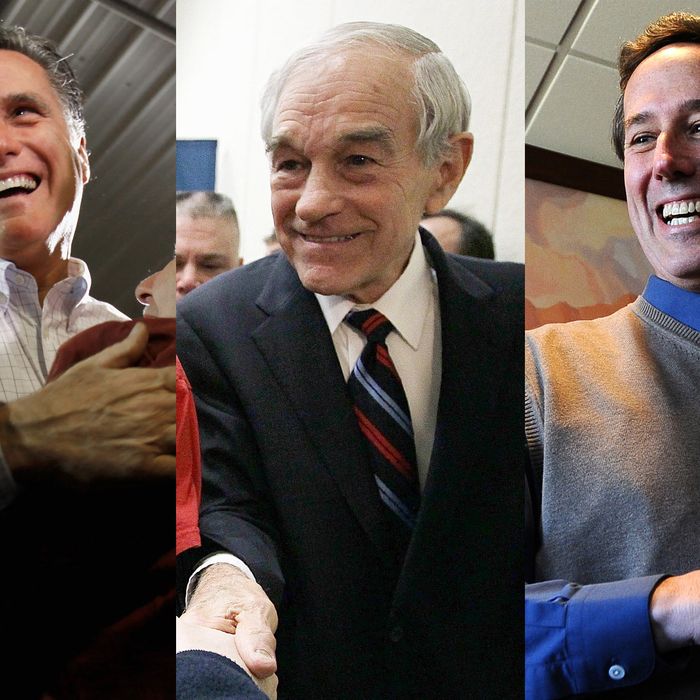 Photo: Chip Somodevilla/Getty Images, Justin Sullivan/Getty Images, Jewel Samad/AFP/Getty Images
For his penultimate event on the penultimate night of the 2012 Iowa caucus process, Rick Santorum presented himself for inspection to a hundred or so voters at a Pizza Ranch in Newton, a half an hour east of Des Moines. Pizza Ranch is an Iowa-based restaurant chain, with many dozens of locations across the state. It also happens to be Christian-oriented — its official corporate mission is "to glorify God by positively impacting the world we live in" — so conservative candidates are fond of making stops at its branches. In fact, the Pizza Ranch campaign event has become such a cliché that I had sworn to make it through this presidential cycle without attending one. In the end, though, I capitulated, and wound up being pretty glad I did.

You may remember that I was fairly critical of Santorum's performance skills in a post a couple days ago, calling him "mirthless," "windy," and "senatorial in all respects." Well, today in Newton we saw a flash of a different side of Santorum, one that helps explain the rise in his standing here — a rise so swift and dramatic that some savvy Republicans believe that he'll emerge on Tuesday night as the winner.

After giving a brief speech, Santorum took questions from the crowd for the better part of an hour. Toward the end, a woman asked for his reaction to a broadside earlier in the day by liberal commentator Alan Colmes on Fox News over the way that Santorum and his wife, Karen, handled the death in 1996 of their infant son, Gabriel. "Get a load of some of the crazy things he's said and done," Colmes said, "like taking his two-hour-old baby when it died right after child
birth home and play[ing] with it so that his other children would know that the child was real."
The essence of what Colmes said was true: When Gabriel died, Santorum and his wife refused to let the morgue take their son's corpse, slept with the body between them that night, and then took it home to their family the next day. Santorum recounted this story to the crowd, choking up as he did so, explaining that "we brought [Gabriel's body] home so our children could see him" — that it was important for them to "know they had a brother." As Karen, who was standing a few feet away from her husband, listened to him talk, she began to weep and blurted out, "This is just so inappropriate." Santorum held back his own tears, building to a ringing chastisement of Colmes and others who criticized their actions. "To some who don't recognize the dignity of all human life, who see it as a blob of tissue that should be discarded and disposed of, [what we did] is somehow weird," he said. "Recognizing the humanity of your son is somehow weird, somehow odd,
 and should be subject to ridicule."

Say what you will about Santorum and his wife's ardent pro-life views and the way in which they chose to process their grief over losing their son. The sincerity and depth of the candidate's feelings on the subject are indisputable, and the moment at the Newton Pizza Ranch was a moving display of his humanity. This is no small part of the attraction that some voters feel for Santorum: For all his weaknesses as a politician, and they are many, there is precious little slickness or phoniness about him — something that can definitively not be said of any of his rivals.

If Santorum does triumph in Iowa, it will be an absolutely astonishing end to an extraordinary Iowa campaign — an outcome that just two weeks ago seemed utterly implausible. And the authenticity that Santorum displayed in Newton, along with the fervency of his religious commitment and the adamancy of his cultural conservatism, will be the
reasons why it happened.
But a first place finish by Santorum is by no means a done deal. The smart money around Des Moines is still betting that Romney will end up on top. Other wise guys (although their number is rapidly diminishing) contend that victory will be Ron Paul's. And at least one self-styled genius still believes that Newt Gingrich could shock the world and pull off what this person calls "one of the greatest upsets in the history of the Iowa caucuses." The genius in question is Gingrich, however, so please consume it with the requisite dump truck full of salt.

As for me? I have no idea. But here are four factors I'll be paying
 attention to as caucus day unfolds, with some speculation about their implications:

1. Weather. The forecast calls for a clear and sunny day with a sub-freezing and windy night — but no snow. Not so bad, in other words, as to give the determined and well-organized an edge. (Advantage Romney, disadvantage Paul.)

2. Turnout. The operatives inside the campaigns and Governor Terry Branstad are all expecting it to be huge — perhaps as high as 140,000. (In 2008, the number was 119,188.) To anyone who has been following the campaign, this makes no sense; the crowds attending the campaign events of all the candidates were meager throughout last year. If turnout is high, the advantage is probably to Romney, because it means a higher proportion of mainstream Republicans and a lower percentage of hard-core conservative activists. If turnout is low, the advantage is to Santorum, for the same reason in reverse.
3. Independents. Again, there is a lot of talk in political circles here that the percentage of independents caucusing will be historically high for the Republican side—on the twin theories that
 independents have turned sour on Obama and that, in the absence of a Democratic race, they have want to be part of the action but have no place else to go. If this proves true, the advantage is to Paul, who leads among non-Republican voters by ten points or more, according to the internal polling of his foes.
4. Undecideds. The most stunning sentence in the Des Moines Register's story about the gold-standard poll the paper released over the weekend was this: "41 percent of likely caucusgoers say they could still be persuaded to change their minds." That is a whopping number of people 
who are still on the fence, and one that doesn't bode well for either Romney (an extremely known commodity — after two cycles, how many folks who aren't already for him are going to switch to him on caucus night?) or Paul (whose unconventional views tend to produce either unequivocal support or firm rejection). It's perfectly possible, on the other hand, that a great number of those potential switchers might opt for Santorum on the basis of his late momentum or at the urging of the state's network of Evangelical and born-again churches, which delivered the caucuses to Mike Huckabee last time around.
In the end, I suppose, and despite plenty of variables that could swing the outcome to Santorum, I'm inclined to think that Romney will eke out a victory. The former Massachusetts governor's people are exuding the kind of confidence that signals either genuine certainty or arrogant delusion on an epic scale. Romney's campaign has not been perfect by any means. But hubris is not a sin that one associates with his hyper-cautious, super-methodical Boston posse. These aren't people who seem to be high on their own fumes. These are people who are acting as if they know something. Soon enough, we'll know if they do.