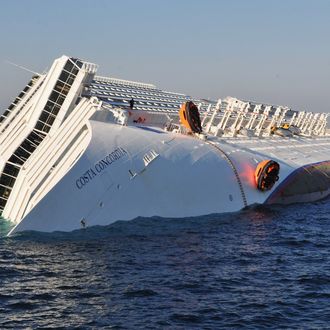 Photo: Laura Lezza/2012 Getty Images
The cruise ship Costa Concordia, which capsized off the shore of Italy on Friday, should have been able to avoid its fate, say executives at the company that owns the still partially submerged ship. They're blaming the ship's captain for the mess, which now counts at least six fatalities among crew and passengers, reports the Times.
"The route of the vessel appears to have been too close to the shore, and in handling the emergency, the captain appears not to have followed standard Costa procedures," the statement said.

The statement appeared to diverge from the company's comments on Saturday when it said that the Costa Concordia had followed the normal course it follows "52 times a year." The company had also commended Captain Schettino, saying he "immediately understood the severity of the situation" and "initiated security procedures to prepare for an eventual ship evacuation."

An Italian newspaper, Corriere della Sera, reported on Monday that the ship had sailed close to the island in order to give a crew member a closer view of his home there. There was no immediate confirmation of the report.
After rough waters on Monday made the ship shift visibly, authorities suspended the search-and-rescue operation, fearful that 500,000 tons of fuel aboard the ship would begin to leak. That homesick crew member is probably regretting asking for the scenic route.