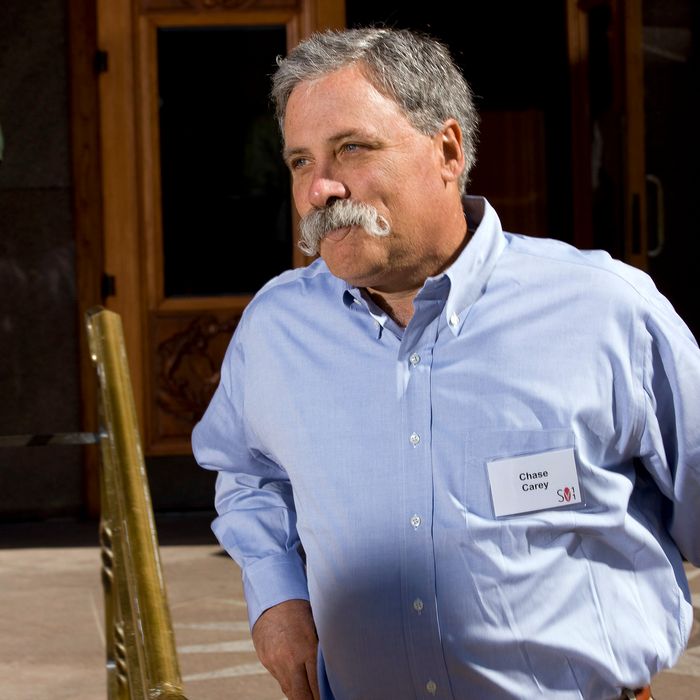 Chase Carey.
Photo: Bloomberg/2011 Bloomberg
With News Corporation embroiled in a long-lasting and expensive scandal over phone-hacking allegations, the ruling family needs a lovable public face that doesn't scream Evil Empire. So far, that role has fallen to the company's president and COO Chase Carey, who the elder Murdoch has said would succeed him in the short-term should it be necessary, thanks mostly to the scion James Murdoch's close connection to the company's British shadiness. Carey, as evidenced by a New York Times profile today, is doing famously at seeming average and even likable.
The article casts Carey as Rupert Murdoch's alter ego: "He is aloof while Mr. Murdoch is engaged with the public (most recently on Twitter, where Mr. Murdoch has criticized opponents of antipiracy legislation); he is all-American while Mr. Murdoch is worldly (Mr. Carey once dragged a colleague to a sports bar while on business in Hong Kong); and he is apolitical while Mr. Murdoch is conservative." The rest of the article's descriptions of Carey are equally positive (or just as good: neutral), right down to Carey's all-American, wholesome taste for food and sports.
Carey, who "leads earnings calls, speaks at investor conferences and strategizes on everything, including retransmission fees with cable and satellite companies," also has a passion for the New York Giants and Yankees (winners, naturally). He played rugby in college, the Times notes, and currently wears "blazers with elbow patches and a Wyatt Earp-style handlebar mustache," which hides a scar he got in a car accident on the way to a college football game.
The former frat boy's favorite Los Angeles bar is "known for its buffalo wings and sawdust-covered floors," and Carey "regularly orders a hamburger and fries during power lunches in News Corporation's third-floor executive dining room and rides a packed commuter train home to the Connecticut suburbs, often popping a can of Budweiser on the way, despite having 'the highest car allowance available to a senior executive,' according to a 2009 filing with the Securities and Exchange Commission." Carey is "all-business with little interest in making small talk, unless it is sports related."
In other words, News Corp. couldn't ask for a more perfect counterweight to the family that runs the company, one generally thought of as a ruthless, elite patriarchy. In fact, the Times would have you believe that if Carey didn't have such an aversion to the exclusive, bourgeois world of politics, he might as well run for president as the type of guy you'd love to have a beer with.