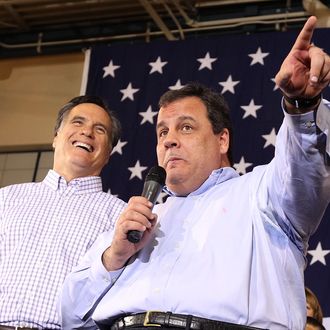 Christie campaigning with Romney, before Romney hated him.
Photo: Justin Sullivan/Getty Images
While Mitt Romney has pretty much promised, at this point, to release his tax returns in April, his Republican opponents have been pressuring him to do so right now so that they can demagogue his wealth and low tax rate while the primaries are still happening. Weighing in on the debate on the Today show this morning was Romney surrogate extraordinaire Chris Christie. Surely he would tell Newt Gingrich, Rick Perry, et al, that April is fine, and that if they don't simmer down, he'll come after them Jersey-style, or something:
"I release my tax returns every year as soon as they're filed, that's my practice …. What I would say to Governor Romney is, that if you have tax returns to put out, you know, you should put them out sooner rather than later because it's always better in my view to have complete disclosure, especially when you're the front-runner."
Tim Pawlenty would never pull this shit.