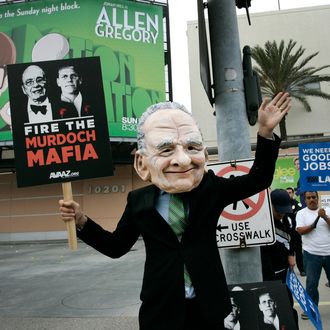 Protesters against Murdoch.
Photo: Bloomberg/2011 Bloomberg
Colin Myler, who last served as editor-in-chief at Rupert Murdoch's scandal-sunken News of the World, has been named to the top spot at the New York Daily News, according to a memo obtained by Capital New York. "I am immensely proud and honored to be leading one of America's great newspapers into a new era," said Myler of the city's top tabloid. Publisher Mort Zuckerman has been searching for a replacement for editor Kevin Convey for a year and a half and said in the release that the paper "will only get better under the leadership of Colin." Myler, a veteran of Fleet Street, is no stranger to mogul bosses, having also done time under Col Allan at Murdoch's New York Post. Most recently, though, his name has appeared alongside the News Corp. phone-hacking scandal.
As the editor of the News of the World when Murdoch suddenly closed the paper last summer, Myler came out quickly against the family, as detailed in this magazine by Frank Rich:
[Myler] joined a departed longtime News Corp. lawyer, Tom Crone, in waiting only two days after the Murdochs' parliamentary appearance to accuse James Murdoch of fictionalizing his ignorance of how widespread the hacking was when he authorized a $1.1 million settlement to one prominent hacking victim in 2008. Myler may also have information to share about Murdoch's American operations. Before succeeding the now-­arrested Andy Coulson as editor of News of the World in 2007, he spent some five years under Col Allan as a top editor at the Post.
While it doesn't look like Myler has moved forward with any plans to bring down the Murdochs with regards to phone hacking, he's now poised to do it the old-fashioned way: on the newsstand. And he'll be going up directly against Allan, just a few years after serving as his deputy. The pair of them know a thing or two about battling, although they're used to doing it on the same team. The reporter Lloyd Grove told one such newspaper war story in these pages:
In March 2006, [Allan] was rounding out yet another long, vinous dinner at Elaine's with his then-deputy, Fleet Street veteran Colin Myler, and their wives. He invited me to join them for postprandial drinks. In due course, Allan started cataloguing the shortcomings of the News, and I parried by questioning the Post's decision to play inside, rather than on the cover, the story of a young woman who had been savagely raped, murdered, and wrapped in packing tape before being dumped on a roadside. The Post had it first, but when the News followed with a page-one splash, it took ownership of a story that dominated the local media for weeks. "With all due respect," I said, "I think you underplayed it."

Instantly, Allan and Myler exploded at me, shouting and cursing, their eyes glinting. If the Post's top editor hadn't been recovering from a recent appendectomy, I thought he might have lunged across the table. His deputy actually boxed my ear as he called me "cheeky" and bared his teeth, a facsimile of a smile. Sharon Allan and Carol Myler—who apparently had seen it all before—just laughed.
And now that fighting spirit belongs to the other title in question.