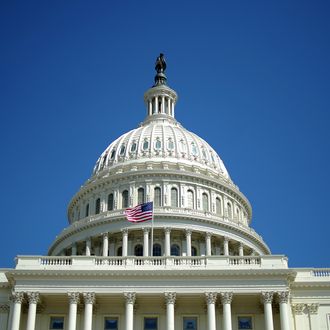 Photo: JEWEL SAMAD/2011 AFP
Close, but not unanimous. By a 93–2 margin in the Senate Monday evening, the Obama-endorsed The Stop Trading on Congressional Knowledge Act (STOCK) Act cleared a procedural vote and may be passed by the end of the week.
Although legislators are already prohibited from acting on non-public information for pecuniary benefit, like anyone else, the STOCK Act spells it out, something lawmakers themselves obviously deem necessary to ensure the public that they're not totally crooked. A 60 Minutes report at the end of 2011 pointing to suspect transactions by Nancy Pelosi and John Boehner, among others, has proved a kick in the rear.
The Act would require members of Congress to disclose stock transactions within 30 days and would "explicitly prohibit members of Congress from initiating trades based on non-public information they acquired in their official capacity," the AP writes. The House intends to pass a similar version of the bill by the end of February.

The STOCK Act's lonely two dissenters Monday were Republican senators Richard Burr of North Carolina and Tom Coburn of Oklahoma.
"What happens the first time somebody doesn't make that 30-day deadline? They violated the statute in law," Coburn lamented. "What are we doing? You're not going to have anybody up here except the super, super-rich because nobody is going to say, 'I can't put all my money away and not trade.' It's nuts."
Currently, transaction disclosures are required once a year. In addition to the 30-day mandate, the STOCK Act would force lawmakers to make disclosure forms available on their websites.

Poor Coburn is going to need a sharper assistant and a savvy webmaster STAT.