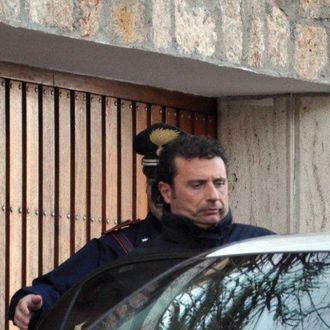 As bad at making excuses as he is at not hitting rocks with his ship.
Photo: Enzo Russo/AFP/Getty Images
You know that time you caught your high-school boyfriend making out with some floozy at a party he didn't think you were coming to, and he told you he just tripped and fell and her lips just happened to break his fall, and he had to grab onto her breasts and ass to steady himself? That's basically how Francesco Schettino, the captain of the Costa Concordia, is explaining his decision to abandon his ship as it sunk off the coast of Tuscany last Friday with passengers still inside:
During a three-hour hearing on Tuesday, captain Francesco Schettino said it was an accident that he left the Costa Concordia, according to La Repubblica.

"The passengers were pouring on to the decks, taking the lifeboats by assault," the newspaper quoted him as telling a judge during a hearing to determine whether he should be held in custody on charges of manslaughter and abandoning ship.

"I didn't even have a life jacket because I had given it to one of the passengers. I was trying to get people to get into the boats in an orderly fashion. Suddenly, since the ship was at a 60-70° angle, I tripped and I ended up in one of the boats. That's how I found myself in the lifeboat," said Schettino.
The best we can say for Schettino is that at least he didn't steal a small child, Billy Zane–style.