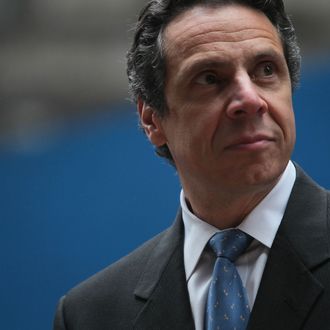 Photo: Chris Hondros/2010 Getty Images
This time he really, really means it. Governor Andrew Cuomo today, in his annual budget speech, proclaimed his intention to make $805 million in public school funding contingent on the implementation of new teacher evaluation standards. It sounds tough and clear, but the political and practical realities are a whole lot murkier.
This new round of wrangling is the legacy of a hasty compromise cut nearly two years ago. The state had blown one deadline to apply for $700 million in federal "Race to the Top" money; to make the second deadline, state education and teachers' union leaders announced they'd agreed on a framework for a new evaluation process — but, crucially, punted the details to future negotiations between local school districts and unions. The effect has been to give the unions leverage; in the city, the UFT has demanded an additional layer of appeals for teachers the city wants to fire, even if it means losing the federal money.

Back in 2010, then-candidate Cuomo didn't comment on the evaluation deal, instead issuing a one-word statement on another element of the plan, an increase in the number of charter schools: "Amen." Now he's stuck with the messy aftermath. Back in May, the governor vowed to impose a rigorous new test-heavy evaluation procedure and dared the unions to sue. They did, and now he's asking them to drop the suit and go along, or else he'll slash education funding. In 30 days. Maybe. The governor is giving the state's Department of Education and the New York State United Teachers another month to negotiate, during which time the evaluation system could be watered down still more. If the stalemate isn't broken by March, the governor says he'll use a budgetary maneuver to force changes, a tactic that's a gift from his predecessors George Pataki and David Paterson. Using it, however, would invite a new series of court challenges.

A separate but equally important uncertainty is how much political damage Cuomo is willing to risk. Last year he was able to push cost-saving measures on labor unions without coming across as a union-buster, positioning Cuomo as the reasonable Democratic centrist alternative to Republican gubernatorial union-haters like New Jersey's Chris Christie and Wisconsin's Scott Walker. But New York's teachers unions, who are generous donors to state legislators, were largely on the periphery of 2011's budget battles. This time, they're at the center. UFT President Michael Mulgrew went out of his way to praise Cuomo's speech, trying to shift the blame for the impasse back to Mayor Michael Bloomberg, and betting that Cuomo will lean on Bloomberg to cut a deal in the city. Cuomo wants to trim the unions' power, but he also needs to keep them as an ally if he's going to achieve his larger Albany agenda. National teachers unions also remain a force in Democratic presidential politics, but of course 2016 is a very long way off.

All of which makes for entertaining theater and yes, it's useful to know whether people are doing a good job and it's important to have the managerial freedom to dismiss those who aren't. Coming up with a fair, meaningful process is also required to obtain the federal cash. But the prodigious amount of time, energy, and money that is expended on arguing over teacher evaluations is an absurd sideshow. The key to improving the schools remains hiring good new talent and continually developing the skills of the existing educators. Those things are not nearly as much fun for headline writers. But they're still what matters most to New York's students.