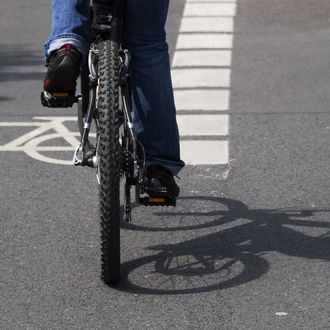 Mathieu Lefevre was killed in October when he was struck on his bike from the left side by a crane truck making a right turn at Morgan Avenue and Meserole Street in Brooklyn. Police said at the time that the driver was likely not aware that he had hit Lefevre, and that the cyclist was at fault for running a red light. The man's mother, Erika Lefevre, was livid that the police would release such information to the press, blaming her son, while not providing her with official documents. She responded by filing a lawsuit against the NYPD, which has finally released records of the crash. The evidence doesn't exactly back up the official account of the accident.
Lefevre's mother and her lawyer Steve Vaccaro said that paperwork and videos show that the cyclist did not run a red light and that the truck turned without signaling, proceeding to drag Lefevre for 40 feet and the bike for an addition 130 feet before driving away. "An investigator told me he saw the blood on the bumper that night, starting to run off in the rain," Vaccaro said. "But they didn't take a picture" because the camera was "not working properly (black photos)," according to an NYPD equipment checklist.
The file did, however, contain photos of Lefevre's mother and Vaccaro. "That's not something I've encountered before," said the lawyer. "It's certainly not routine."
Erika Lefevre said, "We are appalled by this and other plainly unprofessional aspects of the NYPD investigation. NYPD should take its responsibility to investigate crashes more seriously." The driver, Leonardo Degianni, has not been charged.